Before opening in China on Friday, 9 March 2018, Black Panther, the Marvel Studios movie directed by Ryan Coogler had already grossed well over $900 million from cinemas globally. It is expected that by Monday the movie would have crossed the $1 billion mark in just 4 weeks.
A remarkable feat that only a few movies, including only four others from Marvel, have ever achieved.
More importantly, however, and what is most probably contributing to the movie's popularity is its Afrofuturism theme as well as its refreshing and positive depiction of Wakanda, a fictional Afrikan country.
Culture and design
It is in the designing of Wakanda and the Black Panther movie as a whole that you start appreciating the level of research that went into the movie, considering that it is not only the first-ever Marvel Cinematic Universe movie that takes us inside Wakanda but also one that has an Afrofuturism theme.
To understand more about the behind-the-scenes work that went into bringing us the movie, I reached out to Hannah Beachler, the production designer for the Black Panther movie. Given Beachler's track record, I was curious to know if she chooses to work on movies that mostly pan Afrikanist in nature.
"Not necessarily, I go for [the] story always, first and foremost, then the filmmakers on the project. I think great stories come from that experience, stories all people can relate to, and stories that need to be told.," said Beachler in an interview with iAfrikan.com.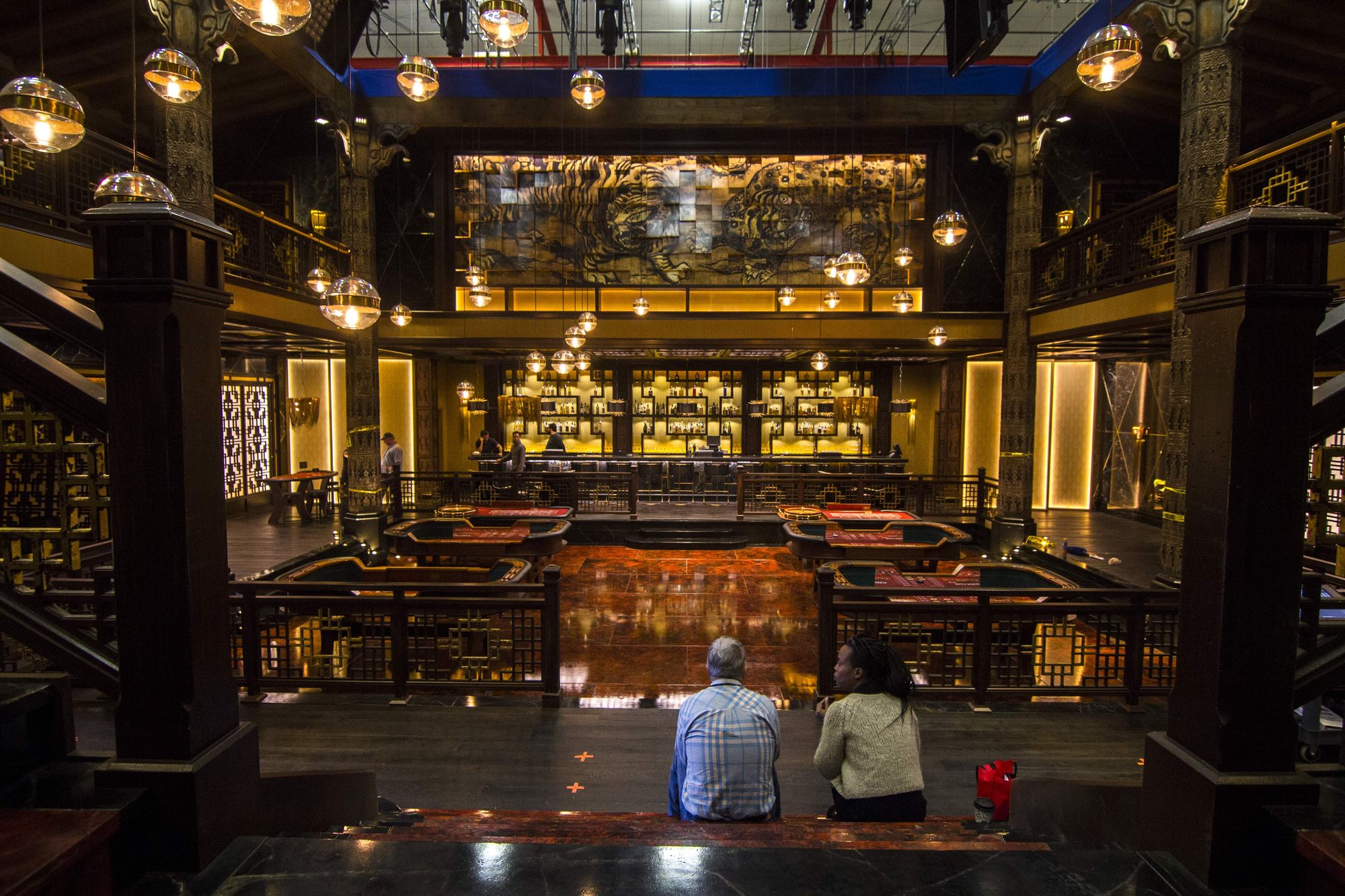 Before working on the Black Panther movie, Beachler had worked on the Golden Globe and Academy Award-winning movie, Moonlight, as a production designer in 2016. Beachler also worked on Beyoncé's Lemonade Album short film as a production designer. Both touch on issues faced by Black people.
I was curious though, with Beachler being an American, if, at any point in designing Wakanda, she was worried that herself and the rest of the design team could be accused of cultural appropriation.
"I think people worry if they are 'culturally appropriating' when they are not honoring the culture, the people, the source, the traditions. That's not who I am," said Beachler.
Given how the movie has been received at cinemas by audiences across the continent, it is safe to say that Beachler need not worry about cultural appropriation. People who went to see the movie on its opening weekend did so in various traditional and futuristic Afrikan attire, sharing the spirit of the movie of celebrating Black culture and people.
It seems this wasn't by accident once you hear Beachler share that her hope in designing Wakanda, and the Black Panther movie set, was always to honor the continent and the Afrikan Diaspora.
"It was to be a part of changing the narrative about who we are as a people on both sides of the Atlantic, and what we are capable of, what we can accomplish, and had accomplished before it was taken. I wanted people to see the majesty of the continent. That was my hope. I wanted people to be at home and be able to take the narrative further with their own stories about Wakanda."
Celebrating Afrika and the Afrikan Diaspora is a key message of the Pan Afrikanist movement, which, in a nutshell, aims to celebrate, strengthen and encourage solidarity between all people of Afrikan descent, whether living on the continent or in the diaspora. As such, Beachler and some of the Black Panther team spent a lot of time researching Afrikan cultures, languages, architecture, science, and more in order to ensure they bring across the message of an advanced Wakanda and a place that celebrated Afrikans.
"It's [Wakanda] a connection to the continent our ancestors came from, and indicative of what could have been, and what could still be, in unity. It's a love letter to black people everywhere," explained Beachler.
The technology of Wakanda
For the better part of 9 months, according to Beachler, the directing and design team spent their time doing research for the movie. This included traveling to South Africa for three weeks from Cape Town all the way up to the northern parts Kwazulu-Natal by Winterton. They spent time at Sentinel Peak on the border of Lesotho and South Africa.
"I researched languages and many of the tribes in sub-Saharan Afrika where Wakanda is located. I researched architecture all over the continent and architecture globally, Zaha Hadid was a big influence. I also studied topography and mining/metallurgy. I could go on and on and on for quite some time (hahaha) but we were influenced by the Mursi, Masaai, Dinka, Omo Valley River Tribes in Ethiopia, Dogon of Mali, Tuareg, Suri tribe, Igbo, Congolese fisherman, Gurunsi of Ghana, Ndebele, Zulu, Xhosa and many, many more."
This could possibly explain the heavy South African influence in the movie which is also carried on with South African hip-hop artists featuring prominently the Black Panther movie's album produced by Kendrick Lamar. Beachler, however, says the South African influence wasn't intentional, "but South Africa was/is certainly a part of the inspiration for Black Panther."
Interesting thought is how one imagines and designs technology developed by an Afrikan country that had never been colonized given that Wakanda has never had influence from the outside world. Given this, Beachler explained that Wakandan technology is singular to the people of Wakanda and developed through the evolution of their traditions.
"To the outside world yes, it is very futuristic, but we looked at it through the eyes of Wakandans."
This, explains why most of the science, technology, and innovations of Wakanda are human-focused. One such technology used is biometrics. These also appear to be heavily influenced by nature and the environment of Wakanda.
"Humans have looked at nature for answers to problems of all kinds throughout history. As we started developing by evolving different parts of traditions we found that so many traditions through many tribes relate back to nature and biology, so we ran with that and found that to be fitting to the uniqueness and ingenuity of Wakanda," said Beachler.
There is obviously no doubt that Beachler and company spent a lot of time researching and paying attention to detail when they designed every aspect of not only Wakanda but the Black Panther movie as a whole. More especially, a lot of attention seems to have paid to imagining an independent, uncolonized, and technologically advanced Afrikan country.
This is why I thought, perhaps, in watching the movie, I could have missed some "easter eggs", hence I asked Beachler if there are many things in the Black Panther movie that she'd like to share that are not so obvious that they are Afrikan inspired.
"Hmmm, I don't know? I'd have to say no to that one."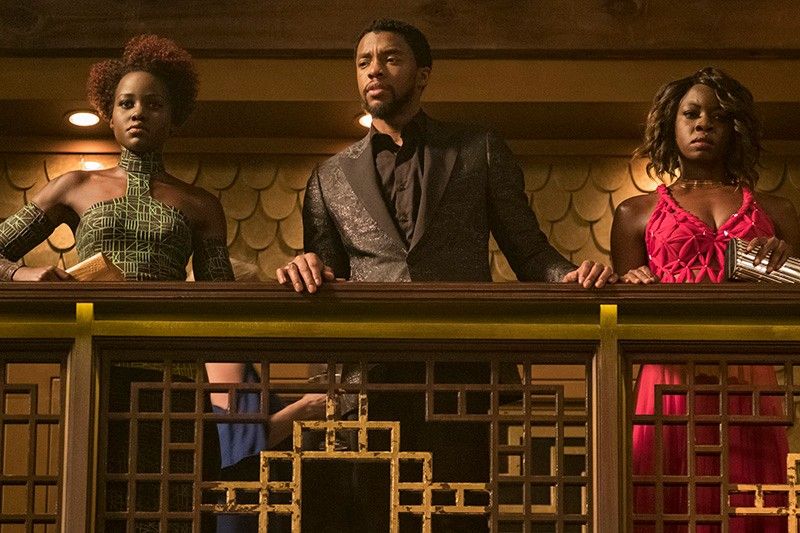 Looking at the South Korean casino scene, where Nakia, T'Challa, and Okoye are standing over looking at the floor, I just wonder if this is the easter egg I was looking for, or maybe it was not intentional.
— By Tefo Mohapi