Just over a decade and a half ago or so, the footballing world has witnessed a perennial debate about who is the better footballer between Lionel Messi and Cristiano Ronaldo. The debate is only about Messi vs Ronaldo because, unlike most Afrikan football leagues, European football leagues collect data during football matches and have been doing so for many a decade, as such, it is easy to determine that, based on data, Messi and Ronaldo are head and shoulders the best players compared to anyone else that follows.
The debate then escalates very quickly between fans and analysts to comparing statistics to determine who between the two is the G.O.A.T. (Greatest Of All Time). Now, when it comes to Afrikan football leagues, try asking any fan which player plying their trade in any club on the continent is the best currently? Better still, ask them which midfielder was the best (in terms of assists) in a specific season in their local league in the recent past.
You are likely to be met with silence or conflicting answers.
"[There's] Not much data on Afrikan football. Data hasn't been placed at the centre of the Afrikan football discussion hence the reason for the AFDC [African Football Data Centre]," lamented Cameroon's Kingsley Pungong, CEO of Rainbow Sports Global, and initiator of African Football Data Centre (AFDC), when speaking to iAfrikan.com about how he is looking to solve Afrikan football's data problem.
Pungong believes that the difficulties faced in collecting this data create an opportunity and that they are the driver for change.
"We don't let these be a show stopper," added Pungong.
Afrika claiming its rightful place in the football world
Without the relevant data, especially on Afrikan football players playing in leagues on the continent, it is difficult not only to value them for the purposes of the football transfer market but also difficult to compare them to their counterparts in other continents. As a result it is possible that the players get a less than optimal deal when changing clubs, whether within the continent or outside the continent.
This is partly what motivated Pungong to start AFDC, although currently it still has limited data, to "change the narrative and perception of African football."
"To have science back certain assertions and to help build capacity that will give Africa its rightful place in global football."
And there is no doubt, as we've witnessed time and again, that Afrikan football players are among the best in the world. Currently Mohammed "Mo'" Salah is arguably, well, according to AFDC the data confirms this, the most valuable and top Afrikan football player in the world.
He is not the first though as the likes of George Weah (African, European, and World Player of the Year in 1995), Pungong's countryman Samuel Eto'o Fils (FIFA World Player of the Year Bronze Award: 2005), and many others have proven that Afrika can produce the best players in the world. Which begs the question, how many more players are currently playing in Afrika and are undervalued?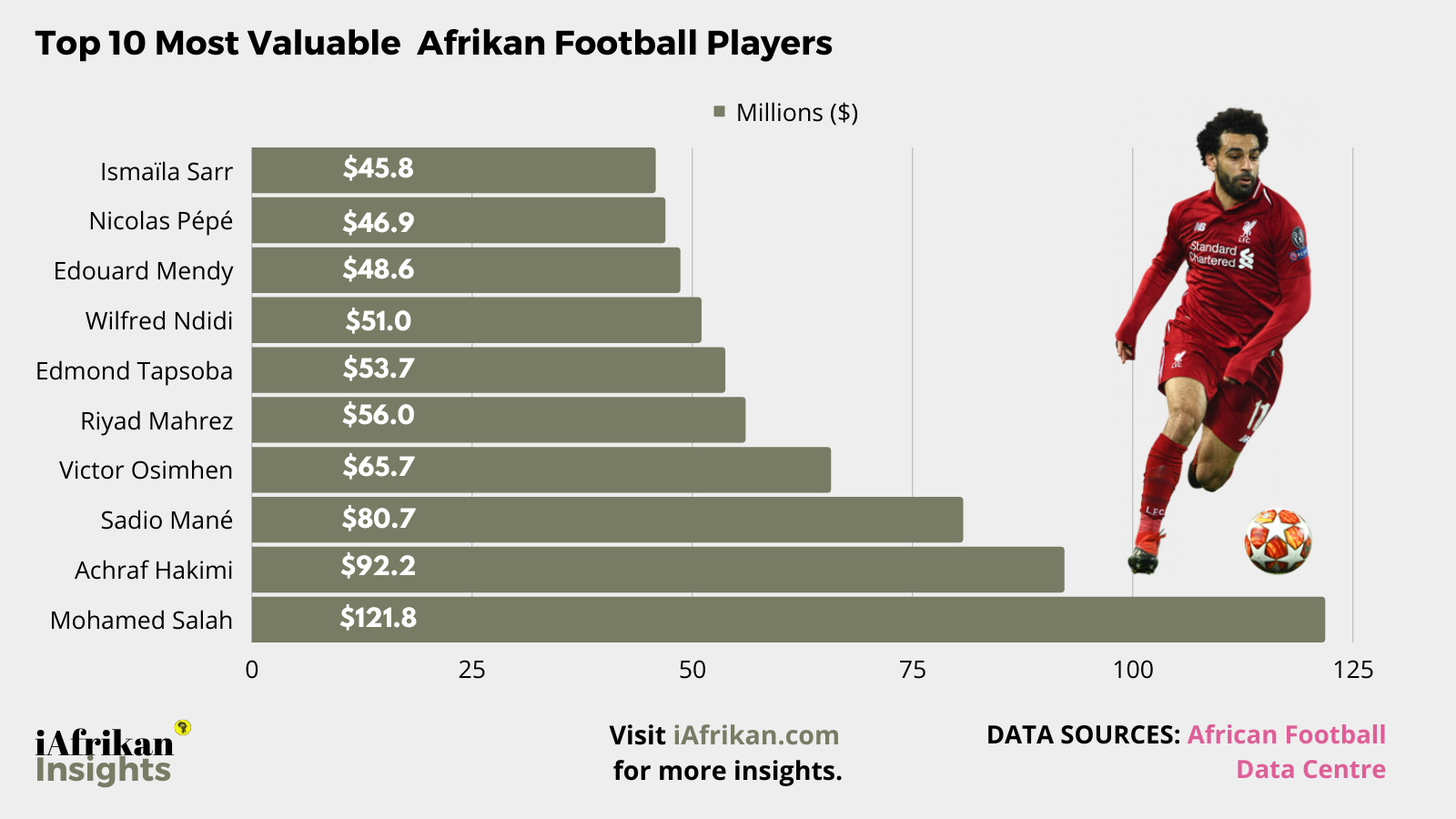 Democratizing Afrikan football
It is only when Afrikan football players get signed to football clubs in other continents, especially Europe, do we start to see their monetary value unlocked. This is likely not only because of on-the-pitch data being measured, but also key player health data and more, suggesting that there is a wider scope of data to collect regarding Afrikan football.
This is something that Pungong appears to be building towards with AFDC.
"We want to first of all provide information and drive usability. The next phase is to build on this and include performance data and a subscription model."
Ultimately, as it is with most efforts to collect data on any industry or sector across Afrika, it is not only about unlocking value but also sharing more information on Afrikan football and enlightening the world about the football industry in Afrika, as Pungong also concurred.
"Rainbow intends to use data, technology, content, and media to democratize African football and create Africa's greatest generation of stars. The AFDC is one of the steps being employed in order to realize this goal."
— By Tefo Mohapi