After completing your formal education, you begin the most important stage of your life: the "apprenticeship phase," which is a second practical education. You re-enter this phase whenever you switch careers or pick up new skills. You're required to swiftly pick up knowledge and follow the road mapped out by the best masters while in the apprenticeship phase, as every opportunity has a finite lifespan. The ideal apprenticeship enables you to upload the knowledge and experience of masters who have traveled the path before you, helping you to avoid mistakes and wasting time, energy, and resources. You gain the information, discipline, and abilities required to transform into an independent thinker during this process, preparing you for the inventive problems you'll face on your own journey to mastery.
Tefo Mohapi's life was that ideal apprentice master to me and the Afrikan continent.
Following the news of his passing, tweets from Afrika and her intelligentsia described how they downloaded his wisdom onto their hard drives as they journeyed in the pursuit of their mastery "I never had the opportunity to speak with TefoMohapi, but I undoubtedly drew inspiration from him and iAfrikan's work when I founded Digest Africa. We shall always remember his contribution to African technology. Fund for Africa's Future's Peter Kisadha. Siphumelele Zondi, SABC Network Among your other contributions to tech in Africa, "You fought a good fight and played a significant role in the telling of Africa's tech story" added in his testimonial.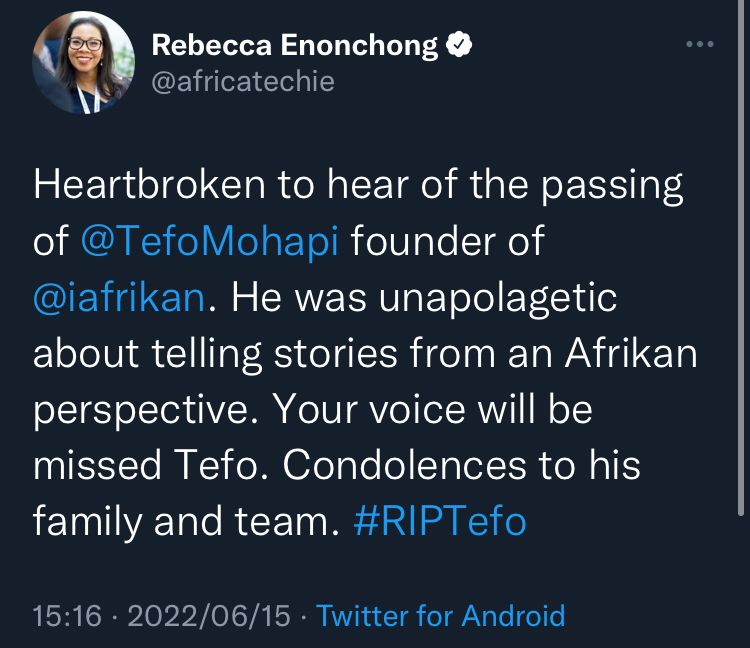 Our shared love for stoic literature meant that Tefo believed in never wasting time, first to always giving lectures to the editorial team on various self-improvement themes. True to this trait, in one of our 'think tank' sessions, I learned one of the greatest lessons from Tefo, the law of cause & effect.
"There is a law I first heard of reading Buddhist texts and realized it applies even in Christianity and basically it is God's law. The whole bible is based on this law, science is based on this law. The law of cause and effect ". "Basically states that everything has a cause and there is no coincidence or chance. If you can't pinpoint the cause it could mean the cause is happening on a different plane of reality (eg spiritual etc) or you don't understand the laws governing how that effect comes to be. So I then seek the causes for whatever effects I want ".
The Best Tefo Mohapi
The following are hand-picked articles, The best of Tefo Mohapi, a gift from our founding leader, to Afrikan innovation and technology innovation. Robala ka kgotso, Afrika e kgantsa ka wena!
What it means to be Afrikan. To be Afrikan also means to be of service to Afrika. To develop the continent and its people. It has nothing to do with race. Because, if an elected leader fails to be of service to their people, is that Afrikan?. [Continue Reading]
A rich but poor continent. For a continent which has all the natural mineral resources in the world, as well as most of the known animals and plants, you have to agree with me that Afrika, or rather its citizens, are poorer compared to other continents that are not fortunate to have so many natural resources. Given this, I guess, it is fair to ask, how do we manage to remain relatively poor given all that we have?. [Continue Reading]
How state sovereignty has changed in the digital age. In recent years there's been an increase in both the number of data breaches, the number of Afrikan government-related websites that have been hacked and defaced, as well as government-related websites that have been DDoS'd. This got me thinking, how ready are Afrikan countries (and the continent as a whole) for a cyberwar (aka World War III) which is most likely already underway?. [Continue Reading]
The effects of constant surveillance. Those in support of constant and invasive surveillance by the state ask: "what do you have to hide?" when one opposes surveillance. However, they don't understand the second and third-order effects of constant surveillance. [Continue Reading]
Youth unemployment in South Africa is a ticking time bomb. Currently, 44,7% of youth in South Africa aged between 15 and 34 years old are unemployed, and not in education or training. Why isn't the South African government putting all its energy into stopping this ticking time bomb? [Continue Reading]