By Tefo Mohapi
The chatter around the WhatsApp Privacy Policy coming into effect on 8 February 2021 continues, not just on social media, but even in real life. It's as if many people have temporarily stopped being concerned by the ongoing COVID-19 pandemic.
Given that, there has been a lot of discussions as to which instant messaging app is the best privacy focussed alternative to WhatsApp.
Two names come up in conversations repeatedly with regards to WhatsApp alternatives - Telegram and Signal.
If it were for me, I'd make this very short and give you an answer right away as to which app is the best privacy focussed alternative to WhatsApp. However, in the interests of transparency, we will present you with our quick research comparing the three apps so that you can understand the final suggestion and conclusion.
Ownership of each messaging app
First, and importantly, is the question of who owns each of these apps and/or how they are funded.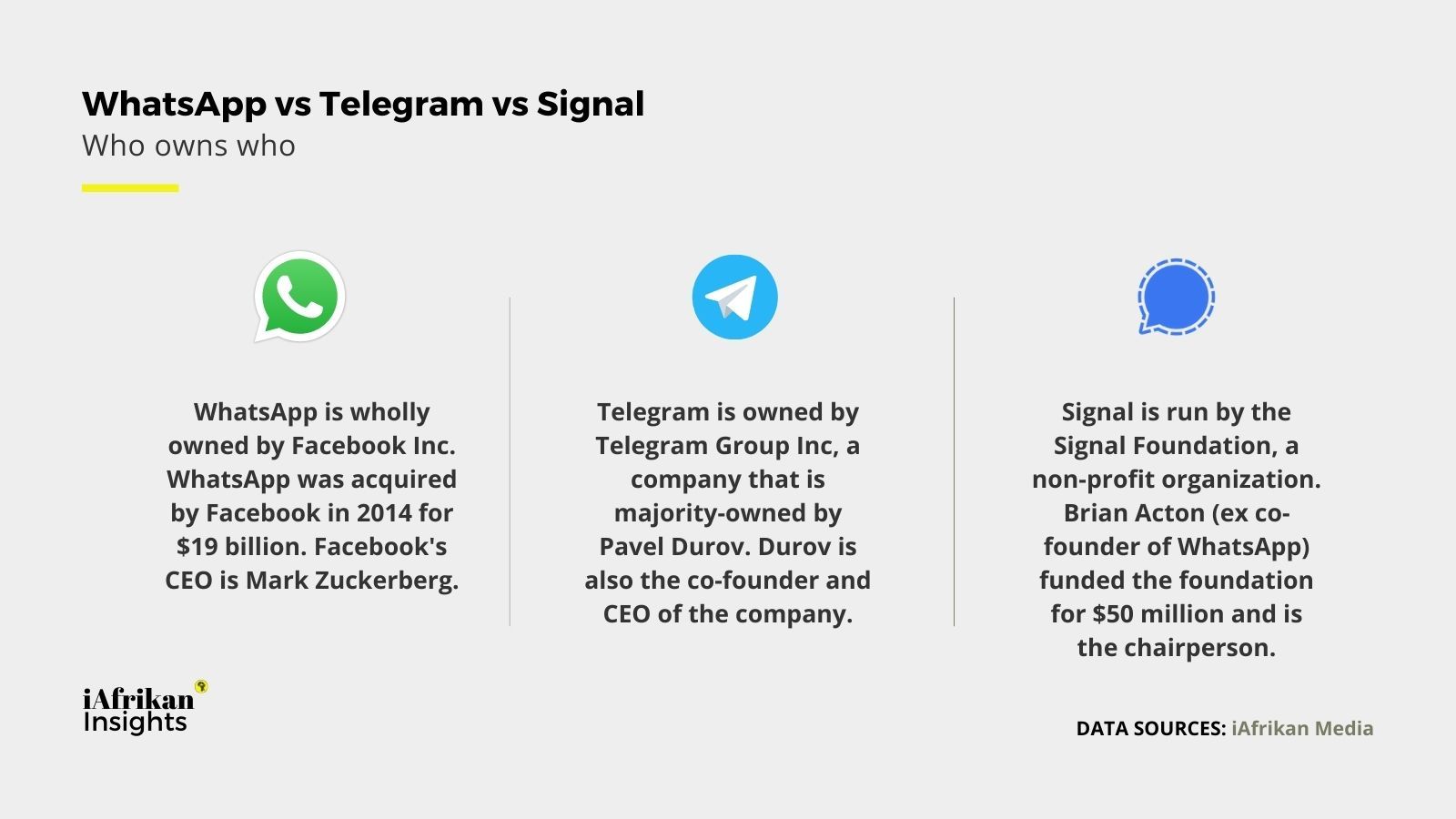 Both WhatsApp and Telegram are privately-owned. Also, if you may, both are controlled (from voting at a board-level perspective) by CEOs who have a background in creating social media platforms. Pavel Durov, together with his brother, is known for creating VK, one of Russia's largest social networking platforms. While on the other hand, Mark Zuckerberg founded Facebook and currently serves as its CEO.
With the Signal app, things are a bit different.
The app is run by a non-profit organization - the Signal Foundation. The Signal Foundation was founded in 2018 by Brian Acton and Moxie Marlinspike. Brian is the former co-founder of WhatsApp and also serves as the president of the foundation. He also funded the foundation with $50 million of his own money after selling WhatsApp to Facebook and leaving the company. Moxie created the Signal app before joining forces with Brian to form the Signal Foundation.
Key features of each instant messaging app
With the ownership of each app out the way, let's look at their key features and how they compare against each other as far as basic functionality is concerned.
From a functionality and features perspective, the three apps are relatively the same. The only key differences being that Telegram offers end-to-end encryption as an option when you specify a chat as a "secret chat" while both WhatsApp and Signal state that they offer end-to-end encryption across all communications made through their apps.
The other difference is that WhatsApp offers automatic cloud backups (once you've selected the option) to Google Drive or iCloud (your choice), while Telegram says it backs up encrypted chats to its servers. As far as Signal is concerned, it offers no automated cloud backups and only allows you to backup your chats to the internal hard drive of your mobile phone.
Now, onto the last and very important topic of privacy, which is why we are all having this conversation.
What data do these apps collect?
What data does each of these apps collect based on their Privacy Policies?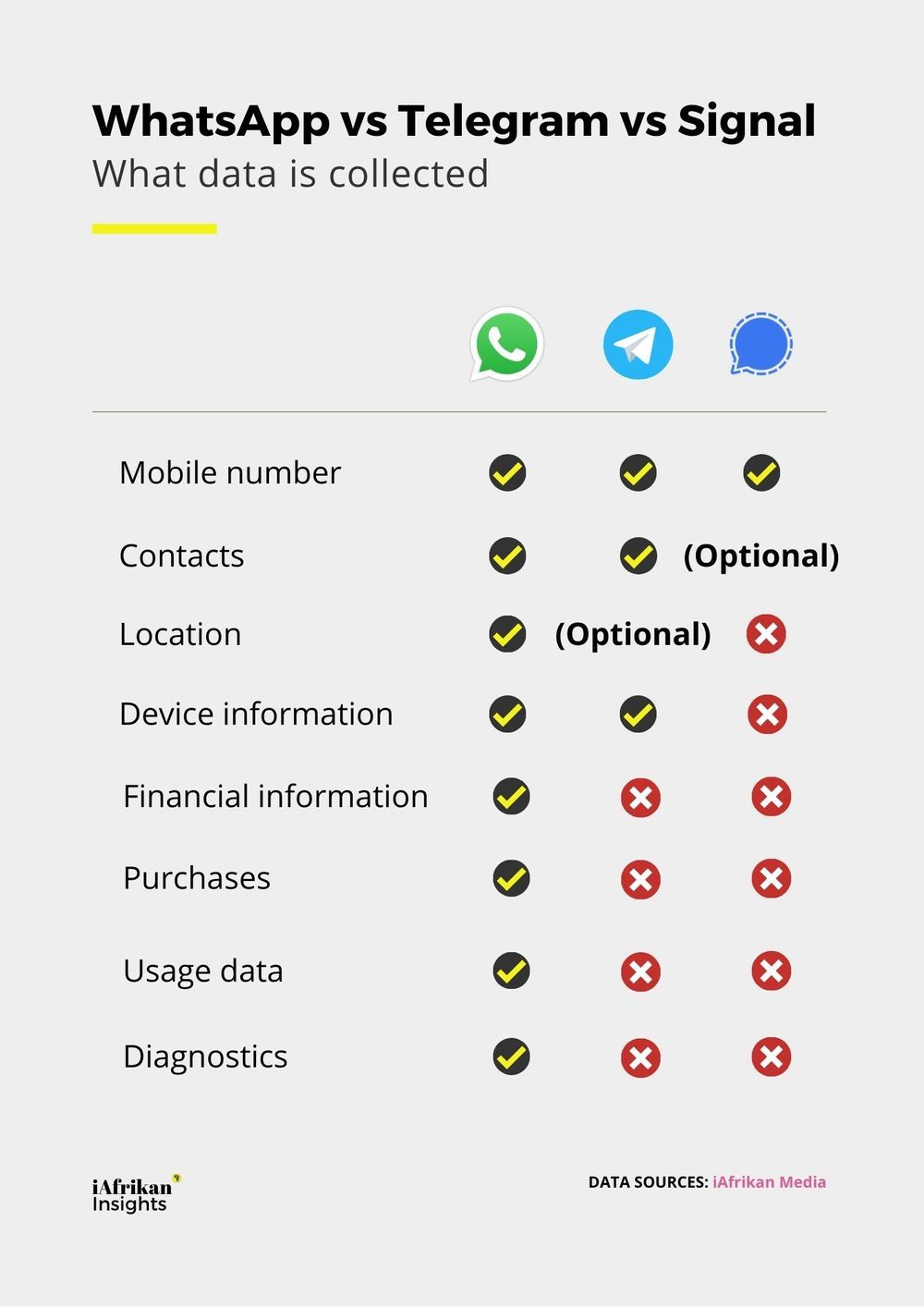 WhatsApp, even long before the announcement of its new Privacy Policy was already collecting a whole lot of information about you and from your mobile device. The major change with its new Privacy Policy is only that it will (officially) be sharing WhatsApp data with the Facebook social media platform.
That they announced this change is interesting because since acquiring WhatsApp, Facebook has been consolidating infrastructure across its platforms to a point where it feels like this announcement was probably made purely for compliance purposes. After all, they own WhatsApp, eventually, they had to integrate it with all their other systems.
Looking at the data collected by the three apps, it is clear that Signal collects the least amount of data, although it collects some, otherwise, it wouldn't be able to function. This is despite what some people have claimed saying that Signal collects no data, it does, they even state this in their Privacy Policy.
With that all out the way, I can finally say what I wanted to say at the beginning of this newsletter - go and download Signal if privacy is of importance to you.