The coronavirus epidemic has disrupted the global supply of computer chips. Demand for chips dropped during the pandemic in March 2020 as orders were canceled, Asian factories were shut down, and many more chip manufacturers halted production. Executives, under government orders, had to figure out how to implement new occupational safety measures on factory floors to protect workers' lives.‌ against COVID-19.
Following the release of Sony's anticipated gaming console, Playstation 5, on 12 November 2020, the Japanese company issued a warning to customers about supply chain disruptions due to chip shortages.
"I don't think demand is going to slow down this year, and even if we secure a lot more devices and produce many more units of the PlayStation 5 next year, our supply wouldn't be able to catch up with demand. Is it possible to dramatically boost the supply?" No, that's not going to happen. One issue is the lack of semiconductors." - Hiroki Totoki, Sony's Chief Financial Officer‌‌
On a similar note, due to global supply chain problems, Afrika's mobile phone shipments fell 11,3% year on year (YOY) in Q4 2021, totaling 48.6 million units. The feature phone market fell 14,3% to 27,1 million units, while smartphone shipments fell 7,1% to 21.5 million units.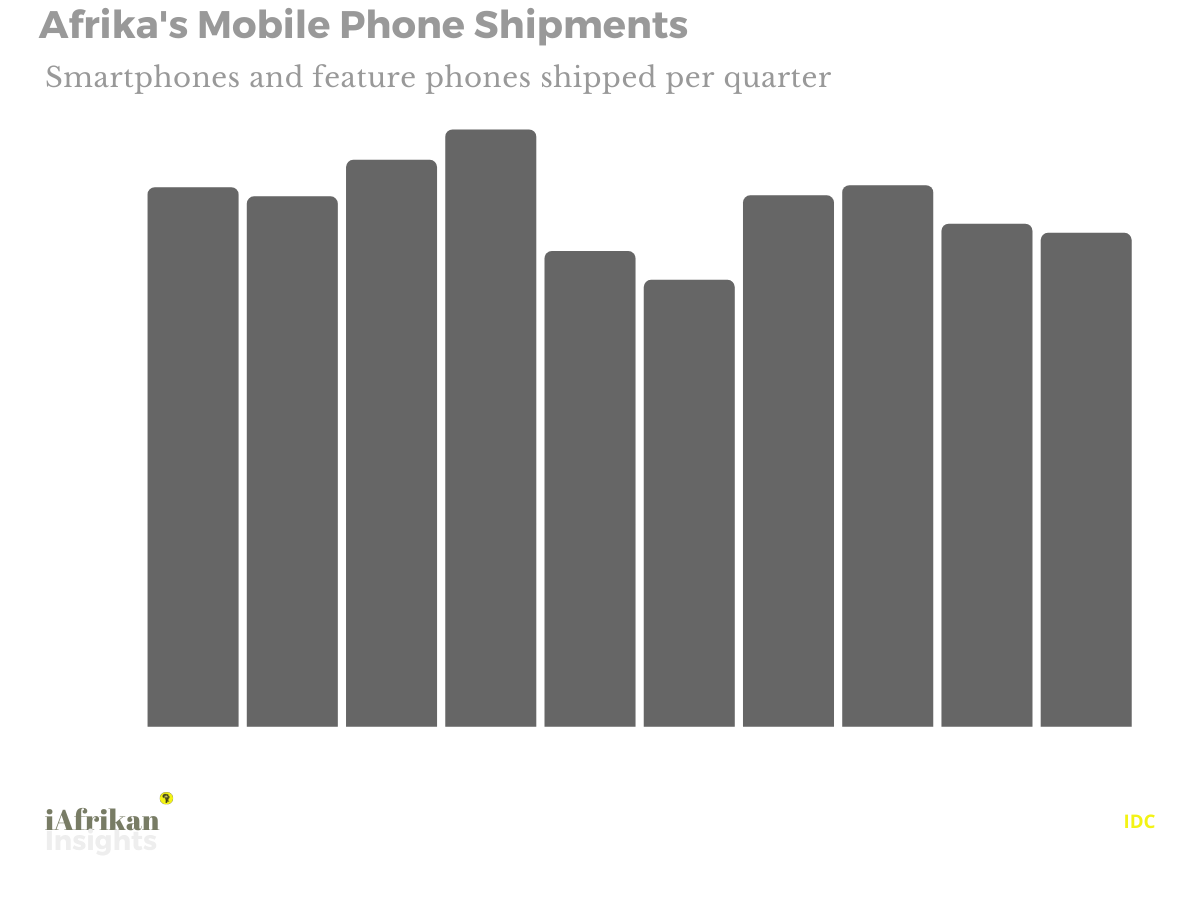 Ecosystem modeled industry
The semiconductor industry has no one company that holds a majority of the market share. It's fragmented. Samsung can provide parts for appliances; Hynix can provide memory for cloud computing, and so on and so forth.
Taiwan Semiconductor Manufacturing Company (TSMC) is by far the world's largest chip producer. It is also the world's sixth most valuable corporation. It sells chips to companies such as Apple, Intel, and Nvidia.
Only TSMC and Samsung are capable of creating today's most sophisticated 5-nanometer processors used in iPhones. Other competitors in the area include SMIC, China's largest chipmaker, which was one of 60 Chinese businesses banned by the USA in 2020, during the height of the US-China tech war.
How to manufacture a smartphone
Mobile phones, PCs, Smart TVs, and in-vehicle entertainment systems are all electronic devices that send and store data. Computer chips, which offer processing power and transmission capacity, are critical to their operation.
Although electronic components have evolved throughout time, computers are generally constructed of the materials listed below.
40% steel.
30%-40% plastic.
10% aluminum.
10% other metals including aluminum, antimony, arsenic, barium, beryllium, cadmium, chromium, cobalt, copper, gallium, gold, iron, lead, manganese, mercury, palladium, platinum, selenium, silver, and zinc
A display screen or monitor adds glass and lead to the components.‌‌
These metals are the basic materials required to manufacture all of the world's electronic gadgets, as well as the computer chips that power them. Afrika is home to all these natural resources used in electronics manufacturing, especially smartphones.
Steel
Steel is created from iron ore, a naturally occurring combination of iron, oxygen, and other minerals. Steel is made from basic materials that are mined and then turned into steel using two processes: blast furnace and electric arc furnace.‌‌
Guinea has the world's greatest iron ore deposits, but the resources have remained undeveloped due to years of legal fighting and alleged corruption over the major project, Simandou. Simandou has more than 4 billion tonnes of high-grade ore, making it the world's largest known deposit of its sort. However, despite the ore's excellent quality, Simandou has remained untapped for decades, owing to legal battles and political instability.‌‌
Anglo-Australian-controlled Rio Tinto has held rights to Simandou since 1997. It owns a 45,05% stake in the southern half, blocks 3 and 4, of the deposit, with Aluminum Corp of China (Chinalco) holding 39,95% and Guinea's government the remaining 15%.
Plastic
Plastics are manufactured from ethane and propane, which are processed from raw materials such as natural gas, oil, or plants. Ethane and propane are then heated to convert them to ethylene and propylene in a process known as "cracking." Different polymers are made by combining these components.‌‌
Nigeria has proven oil reserves of 37,070,000,000 barrels. Nigeria, which is ranked tenth in the world, holds around 2.2 percent of the world's total oil reserves of 1,650,585,140,000 barrels. Nigeria has proven reserves of 237,3 times its annual consumption rate. This suggests that with present usage, there would be around 237 years of oil left if Net Exports were not in place. With these enormous reserves of oil, Nigeria's plastic production potential is astronomical.
‌‌Aluminum
Aluminum is the most plentiful metal on the planet, derived from its mineral bauxite. However, the extraction process is resource-intensive, making aluminum one of the most expensive metals to manufacture.‌‌
Guinea produces roughly 22% of the world's bauxite, with 82 million tonnes recorded in 2020, according to the US Geological Survey (USGS). Guinea has the world's greatest bauxite deposits, with 7,4 billion tonnes.
Copper
Copper is mined largely using open-pit or underground methods. In 2020, the Democratic Republic of the Congo produced over 1.4 million metric tonnes of copper, making it the continent's largest copper producer. Zambia was Africa's second-largest copper producer in that year, with 861,100 metric tonnes.
Cadmium
Cadmium is mostly created as a by-product of zinc mining, smelting, and refining. By 2020, Burkina Faso had produced 105,000 metric tonnes of zinc. This was the highest level of worldwide mineral output since 2013 when 32,200 metric tonnes were reported.
Platinum
The bulk of platinum is mined in South Africa (about 80%). By a huge margin, South Africa is the world's largest platinum producer.
Gold
With 174 metric tonnes of gold, Algeria was Africa's highest gold producer in 2021. With 125 metric tonnes of gold reserves, South Africa came in second. With 117 and 80.73 metric tonnes, Libya and Egypt placed in third and fourth, respectively.
Afrika must lead
Mineral resources have been at the heart of Afrikan economies for a long period of time, however, Afrikan states remain relatively poor relative to the natural resource reserves they have. As the world has transitioned into the digital economy there is an increasing demand for all sorts of resources that Afrika possesses.
Unfortunately, old economic patterns persist.
As it was in previous decades and centuries, Afrika continues to be exploited as it exports its natural resources only for them to be sold back to the continent repackaged in the form of different products. This was true in the industrial age and still is true in digital technology. Afrika possesses very little digital technology manufacturing capacity.
Nothing illustrates this better than the current global ongoing computer chip shortage, Given that all the natural resources required to make computer chips occur in Afrika, what is stopping us from being a leader in manufacturing computer chips?
— By Bataung Qhotsokoane