The Afrikan continent has experienced significant growth in both mobile subscribers and mobile phone shipments in recent years. Taking mobile phone shipments as an example, despite the COVID-19 pandemic, the continent has been able to remain relatively constant every quarter since 2019 shipping over 40 million mobile phones (smartphones and feature phones combined).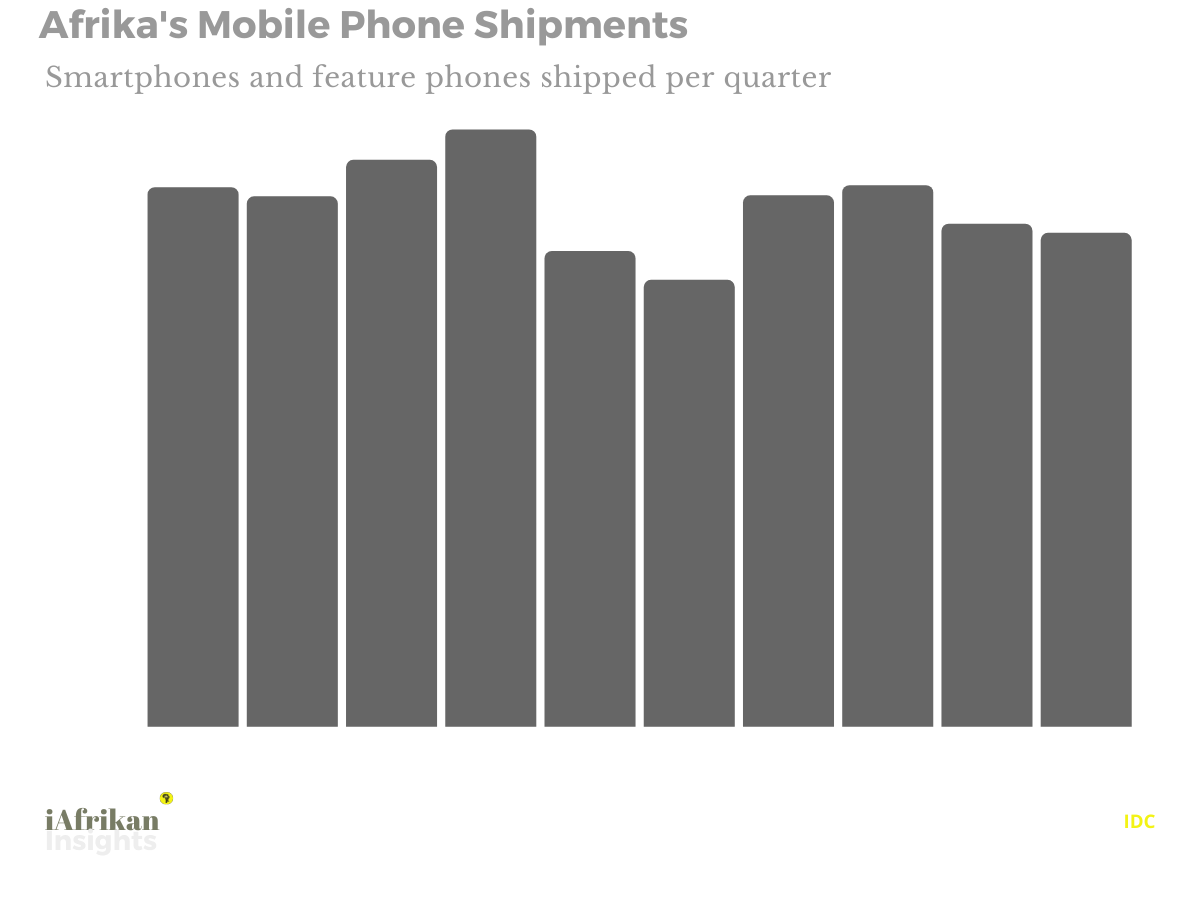 The continent's internet connectivity has been boosted by the significant development of telecommunications infrastructure.
SEACOM (1,28 terabits per second), GLO-1 (640 terabits per second), TEAMS 120 terabits per second), EASSy (1 terabit per second), MainOne (1,92 terabits per second), and WACS (3,8 terabits per second) are some of the investment projects that have produced cyber gold on the continent.
Largest telecommunications companies in Afrika
For numerous telecommunications businesses and the founders and CEOs who skipper these successful online ships, Afrika's digitization has produced great riches.
To get a sense of how rich they have become, consider the following list of Afrika's leading telecoms businesses by revenue and user base, as per the respective company's latest financial reports at the time of publishing.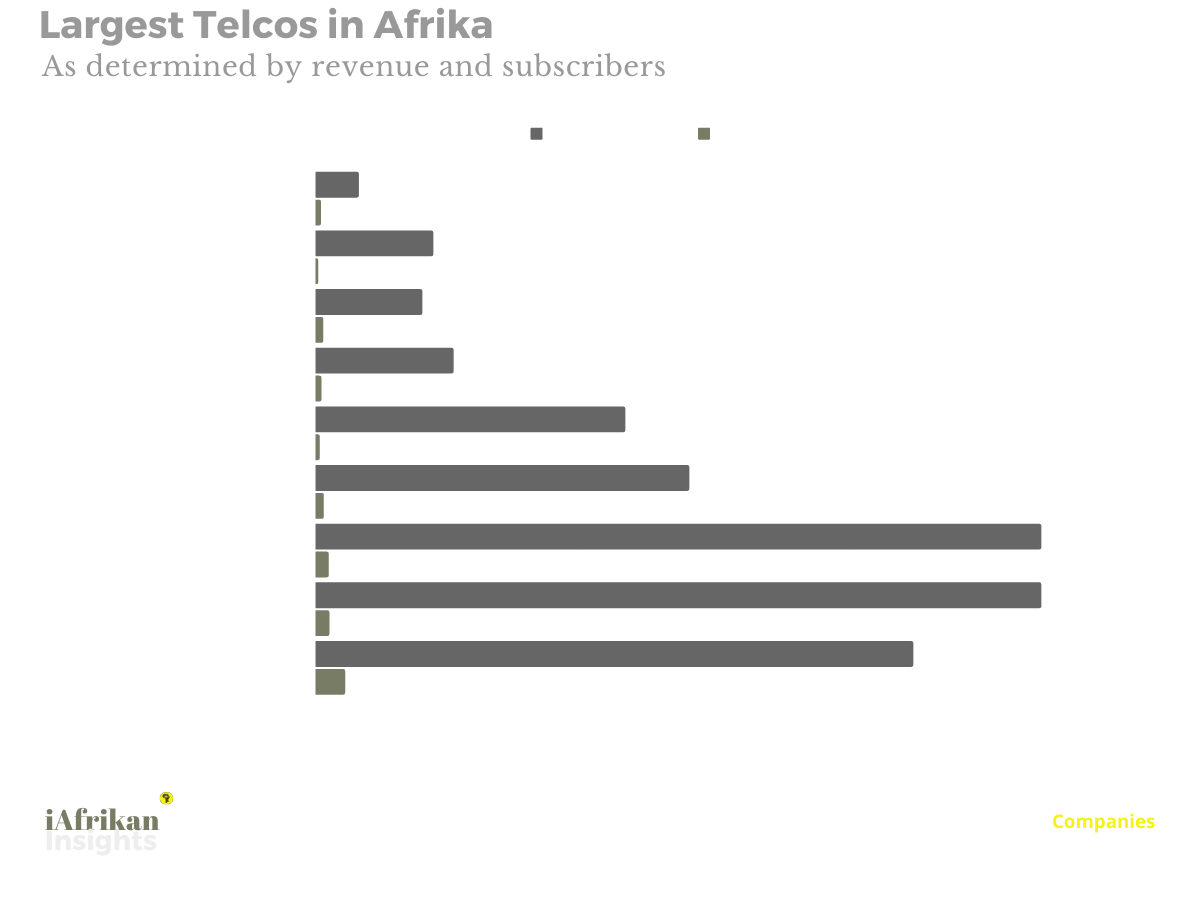 Globacom Limited
Founded in 2003, Globacom, commonly known as Glo, is currently considered one of Nigeria's largest telecommunication firms and is a member of Nigeria's Big Four. Founded by its chairperson & CEO Chief Michael Adeniyi Agbolade Ishola Adenuga Jr.
The company offers a vast range of products, from mobile data to cloud storage solutions.
Revenue: $402 million
User Base: 51 million
Etisalat Egypt
Etisalat Egypt is part of the United Arab Emirates' Etisalat company, often known as Etisalat Misr. It was the north Afrikan country's third mobile operator and the country's first integrated operator telecommunications services provider. In addition, it was the first provider to offer 3.5G and 4G services.
Hazem Metwally is Etisalat Misr's Chief Executive Officer (CEO) since 2015. Metwally joined Etisalat in 2007 as the company's Chief Commercial Officer (CCO).
Revenue: $1,1-billion (2021)
User Base: 26,4-million (2020)
Maroc Telecom

Maroc Telecom is Morocco's major and largest telecommunications firm, having been founded in 1998. It is a semi-public corporation with the Moroccan government holding 22% and Etisalat Group controlling 53%. The rest is owned by other investors, including Vivendi, a French multimedia company.
Maroc Telecom launched fibre optic internet offerings in 2016, with speeds of up to 200Mbps. The business provides landline and mobile phone services, as well as fiber internet, ADSL, and 4G+.
Abdeslam Ahizouneis both chairman and CEO of the telecommunications company.
Revenue: $997 million
User Base: 73 million
Ethio Telecom
Ethio Telecom, headquartered in Addis Ababa, is one of Ethiopia's Big 5 group of state-owned enterprises. This includes Ethiopian Airlines, the Commercial Bank of Ethiopia, and others.
Ethio Telecom provides mobile, fixed-line, and high-speed internet services. Frehiwot Tamru, the CEO, is one of the few women to have commanded the state telecom.
Revenue: $1,29 billion
User Base: 56,2 million
Safaricom
Safaricom is Kenya's omnipresent telecommunications company and the undisputed leader in the country's telecommunications sector. It has approximately 90% market share.
Safaricom, now a part of South Africa's Vodacom Group, was founded in 1993 and offers a wide range of services and solutions, from M-Pesa to mobile devices and everything in between. Accountant Peter Ndegwa is the chief executive officer.
Revenue: $2,4-billion
User Base: 39,90-million
Airtel Africa
Airtel Africa serves 14 nations throughout the continent with telecommunications and mobile money services. It has presence in East, Central, and West Afrika, where Airtel Nigeria is the company's most lucrative subsidiary.
Bharti Airtel, an Indian telecommunications corporation, owns the bulk of the company.
It also has 4G technology and delivers mobile and broadband internet. Olusegun Ogunsanya has been named managing director and chief executive officer of Airtel's Afrika operations.
Revenue: $3,5 billion
User Base: 78 million
Vodacom Group
Vodacom Group Limited is a mobile communications company headquartered in South Africa that serves over 32 Afrikan nations, including Nigeria, Zambia, Angola, Kenya, Ghana, Tanzania, and others.
The British Vodafone Group owns 64,5% of the company, which provides mobile phone technology and internet access services. Shameel Joosub is the group chief executive officer.
Revenue: $6,8 billion (2021)
User Base: 123,7 million*
Orange Africa & Middle-East
Orange Africa and Middle East operates in 18 countries, the majority of which are in Afrika, with Jordan in the Middle East and Belgium in Europe. Orange claims that one out of every ten Africans is a client.
With ACE, 2 Africa, Djoliba, and others, Orange claims to invest 1 billion euros per year to promote and assist digital change across Afrika. It is also a key investor in several undersea and terrestrial cables providing greater internet access on the continent. Alioune Ndiaye is CEO of Orange Middle East and Africa.
Revenue: $6,8 billion
User Base: 130 million
MTN Group
MTN is the largest telecommunications provider in Afrika in terms of revenue and subscribers. MTN's massive subscriber base, by far the largest on the continent, drives it to first position on this list, despite being around $1,2-billion short of Orange Africa & Middle-yearly East's income.
MTN was founded in 2001 in South Africa and has developed at an exponential rate since then, to the point where its brilliant yellow logo is seen everywhere you go (almost) in Afrika.
The company has spread to numerous Afrikan nations, notably Nigeria, where it has a considerable market share and is one of the country's Big Four telecommunications companies.
MTN provides internet access, mobile devices, and insurance. Ralph Lupita heads the telecommunications company as its group CEO.
Revenue: $5,6 billion
User Base: 277,3 million
— By Bataung Qhotsokoane