To encourage capital investment in Electric Vehicle (EV) charging infrastructure, Independent Power Producers would want to see large numbers of EVs on the road across different Afrikan countries. EV consumers, on the other hand, demand confirmation of a charging network before purchasing an EV.
So, is it the chicken or the egg that comes first?
EVs or charging stations in our case.
Whichever one it is, Afrika is adopting EVs at a growing pace. Here's the iAfrikan Insights look at the available EV charging infrastructure.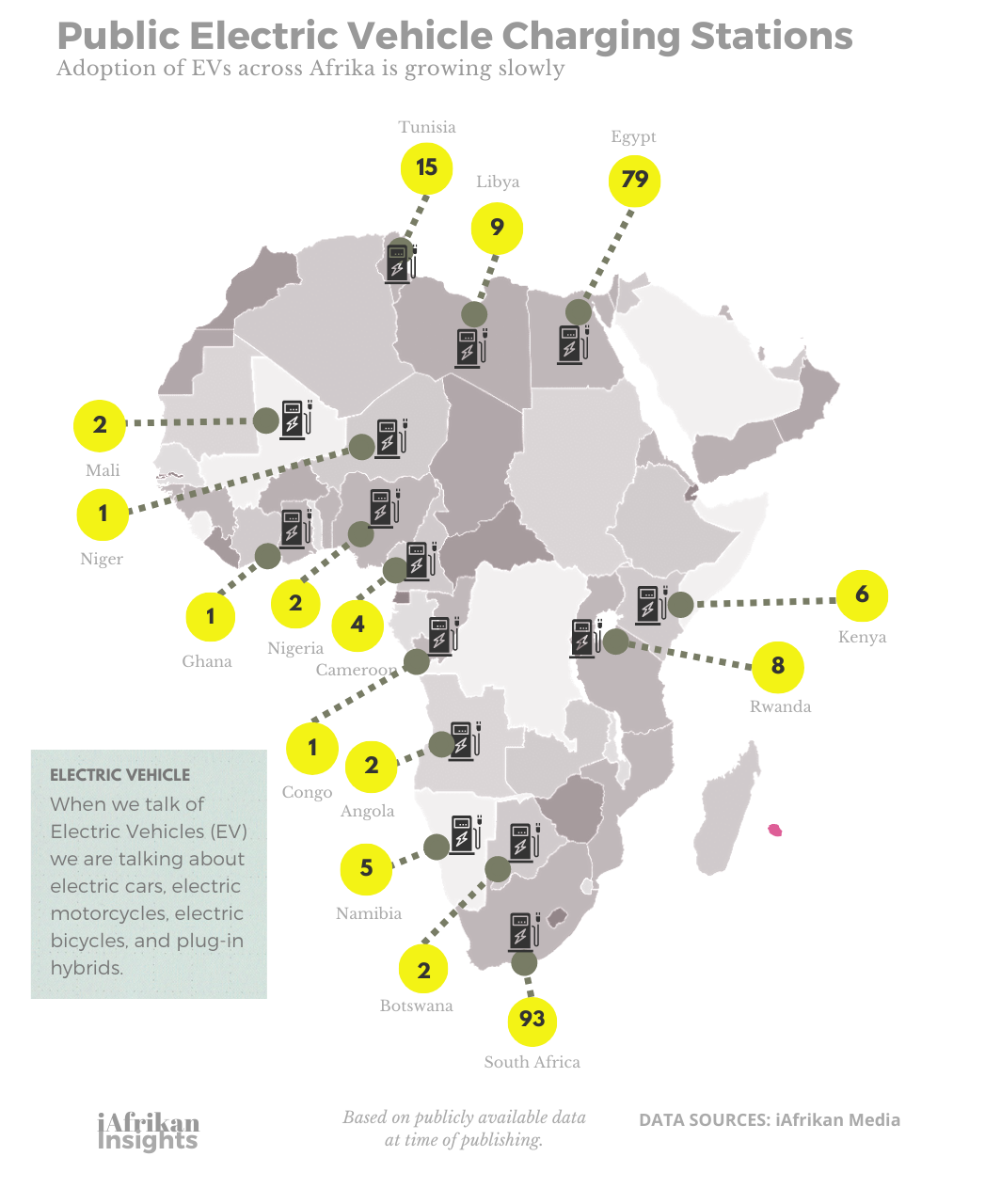 South Africa
South Africa placed fifth internationally in the ratio of public EV charging stations to EVs in 2020. According to the IEA Global EV Outlook 2021 study, this is primarily attributable to South Africa's existing charging station network, which is the largest in Afrika. Only Korea, Chile, Mexico, Indonesia, and the Netherlands have more EV charging stations per EV.
South Africa's ratio is also owing to the country's poor EV penetration, with just about 1,000 completely electric cars registered in the country thus far. Potential EV customers in South Africa have plenty of access to a solid public charging network and may comfortably travel long distances on the country's major roads, for now and also dependant on the availability of electricity on the national grid by Eskom.
Egypt
According to the most recent statistics from the Egyptian Group for Compulsory Vehicle Insurance, the total number of electric cars certified in Egypt reached over 380 in February 2022. Charging stations for EVs was cited in the report, as one of the major prerequisites needed to encourage more people to own EVs.
MB for Engineering, in conjunction with Wataniya Petroleum, launched Egypt's largest charging station for electric vehicles on January 23, 2022. The station can take 14 cars at once and has a capacity of more than 330 kilowatt-hours. MB for Engineering intends to cover the top five governorates in the Arab Republic of Egypt within the first half of 2022.
Rwanda

Around 25,000 motorcycle taxis operate in Kigali, Rwanda's capital, as the lifeblood of the country's transportation system. Ampersand, a Rwandan company, creates inexpensive electric cars and recharge stations for Rwanda's five million motorbike taxi drivers and those in other East Afrikan countries.
💡
When we talk of Electric Vehicles (EV) we are talking about electric cars, electric motorcycles, electric bicycles, and plug-in hybrids.
Ampersand's fleet of 35 drivers and e-motos has traveled over 1.3 million kilometers since its commercial launch in May 2019. Ampersand motorcycles emit at least 75% less carbon and have no tailpipe emissions than gasoline motorcycles. Ampersand also owns and manages a battery swap station network. This allows drivers to replace batteries faster than they can replenish a gas tank.
In 2021, the electric motorbike company secured a $3.5 million investment from San Francisco-based Ecosystem Integrity Fund to scale up operations.

Rwanda Electric Motors Ltd, which is funded by the Rwandan government, is also another initiative to  convert fuel based motorbikes to electric powered. So far, 80 motorcycle taxis have been converted and 200 new electric motorcycles have been constructed for usage. The initiative is part of a larger national effort to cut carbon emissions by 16 percent by 2030.
As EVs become the mode of transportation of choice for more Afrikans, our insights graph shows that much more still needs to be done to make EVs more accessible and efficient with a strong network of charging stations.
— By Bataung Qhotsokoane