During the same week that M-Pesa was celebrating 15 years since its launch in Kenya, MTN Group announced that its mobile money service, MTN MoMo, had amassed 56,8 million customers. This announcement was made during the telecommunications giant's annual financial results event in Johannesburg, South Africa.
Analysts and industry professionals went into a spin as many started comparing that number to the number of customers that M-Pesa has during a similar reporting period as well as other key comparable data points. The conclusion was generally reached, to the surprise of some, that MTN MoMo was now the largest mobile money service across Afrika.
"In our platform businesses, we sustained momentum in the underlying value drivers. For MoMo, the number of monthly active users (MAU) rose by 22.6% YoY, adding 10.4 million MAU, to 56.8 million. Transaction value in our MoMo platform increased by 56.8% to US$239.4 billion. The work to structurally separate the fintech business is progressing well and now aimed for completion by the end of Q2 2022. We were pleased to have secured the approval in principle for a Payment Services Banking licence in Nigeria in November 2021. The structural separation of the fibre business is also underway and is targeted to be completed in 2023," said Ralph Mupita, MTN Group President and CEO.
The fast growth of mobile money in Afrika
The numbers reported by MTN are impressive and testament to a general growth of mobile money and fintech across Afrika. This is partly caused by a large population of the continent being unbanked as well as the rise in mobile phone penetration. Furthermore, there has been a concerted financial inclusion drive by many stakeholders which has also seen many fintech startups born across Afrika.
Perhaps even more impressive is that MTN MoMo has achieved all this during a period of approximately two years as compared to M-Pesa which has been around for 15 years.
"Our exit from the Middle East, in line with our pan-African strategy, is underway. In the year, the Group exited Syria and Yemen and we continue to explore options to exit Afghanistan," added Mupita.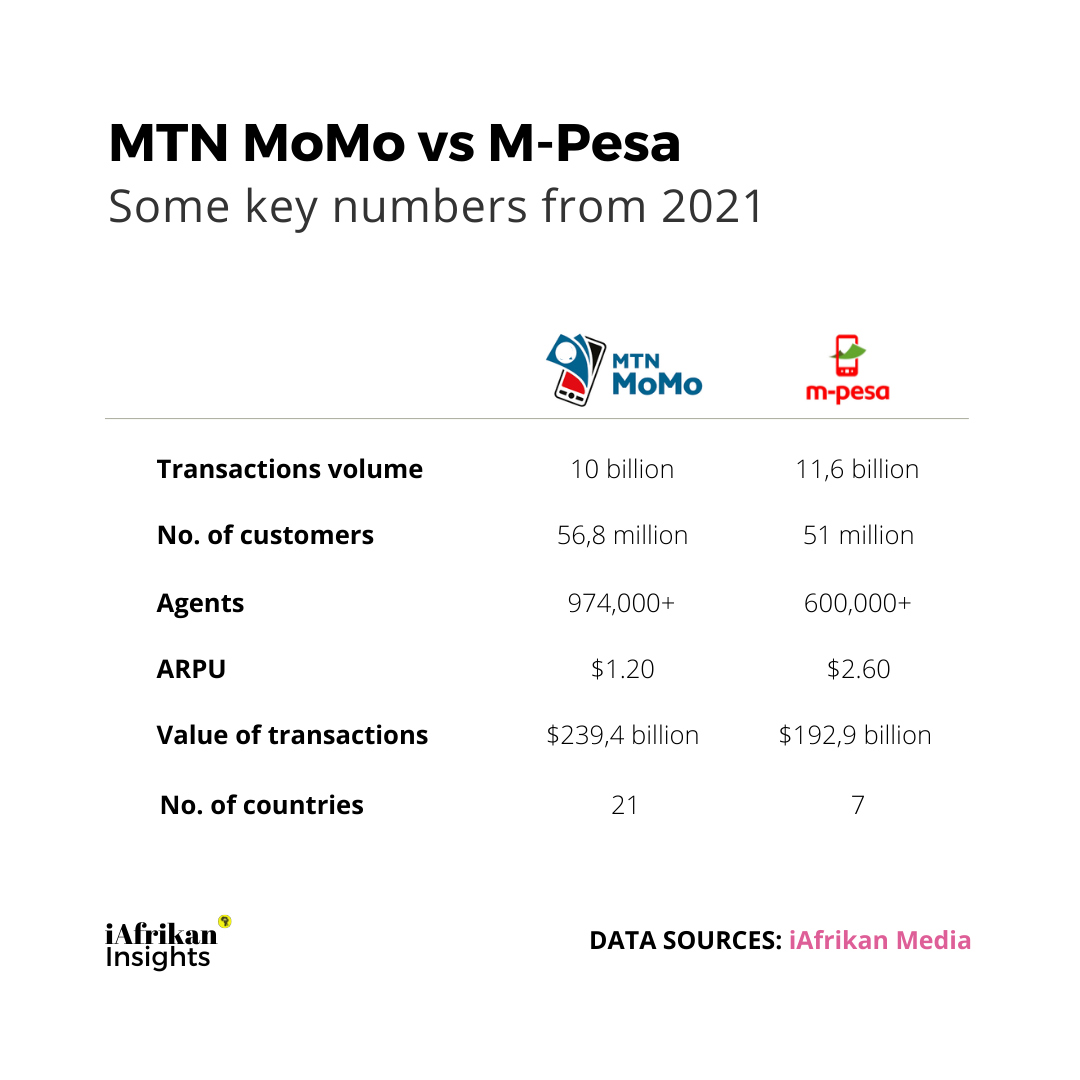 By the numbers
One thing that is obvious is MTN's aggressive pan-Afrikan strategy as mentioned by Mupita. Compared to Vodacom, which now owns M-Pesa away from Vodafone, MTN has been intentionally and aggressively driving expansion into different Afrikan countries and in the process introducing most, if not all, its service offerings in each country.
As a result, this has enabled MTN MoMo to be present in 21 countries in Afrika as compared to M-Pesa operating in seven, resulting in 56,8 million and 51 million customers respectively. The dominance of MTN MoMo over M-Pesa is indicated in all key data points except transactions volume in which MTN MoMo recorded 10 billion transactions during the reporting period while M-Pesa recorded 11,6 billion transactions.
This however is not only an ignorable difference but not significant enough for M-Pesa to hold on to its title of Afrika's most popular and largest mobile money service.
— By Tefo Mohapi