I spent the better part of 2013 building apps for clients and turning down others who didn't seem to think an app should cost what I was charging. The excitement both on my part and the client's part was palpable! Finally, they could reach their clients directly, providing rich personalized experiences for customers and potential customers and thereby growing their business.
Reality hits
During one evening at the iHub, I was in conversation with an app developer who had been a part of the development team of the Kenya Tourism Board mobile app. I was quick to visit the Google Play Store and check out this app after my chat with the developer. As curiosity would have it, the first thing I checked was how many downloads it had received a few months after launch, less than 5,000.
That was oddly low for such a highly publicized app.
So I decided to spend more time on the Google Play Store and see how other Kenyan apps were doing. Eat Out app, less than 5,000 downloads.
Huh?
Kenya Buzz App, less than 5,000 downloads.
What!?
M-Ledger app (a winner of the Safaricom Appwiz challenge), less than 50,000 downloads. I moved on to more acclaimed apps like say, Ma3Route. Less than 10,000 downloads!
This was getting depressing, so I made some calls around the developer community in Kenya to find out who was the ninja of the downloads game and was soon informed that our most popular mobile app is the Ma3Racer game with just under 500,000 downloads.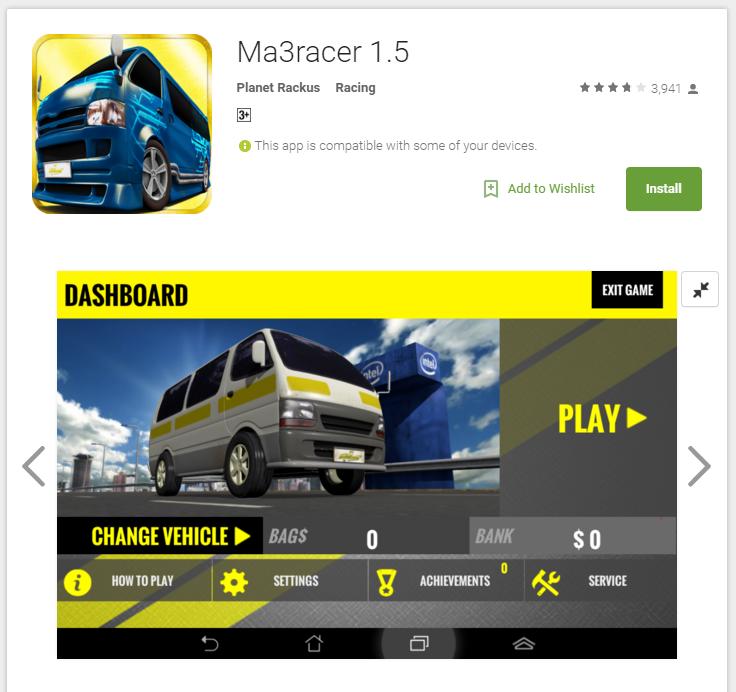 Why aren't Kenyans downloading our apps?
The majority of the downloads for Ma3Racer game were from Asia and Europe.
Another seemingly successful app named Haki, a mobile socially conscious game released with a lot of fanfare from the NGO world. Haki garnered over 200,000 downloads, most from Vietnam and India!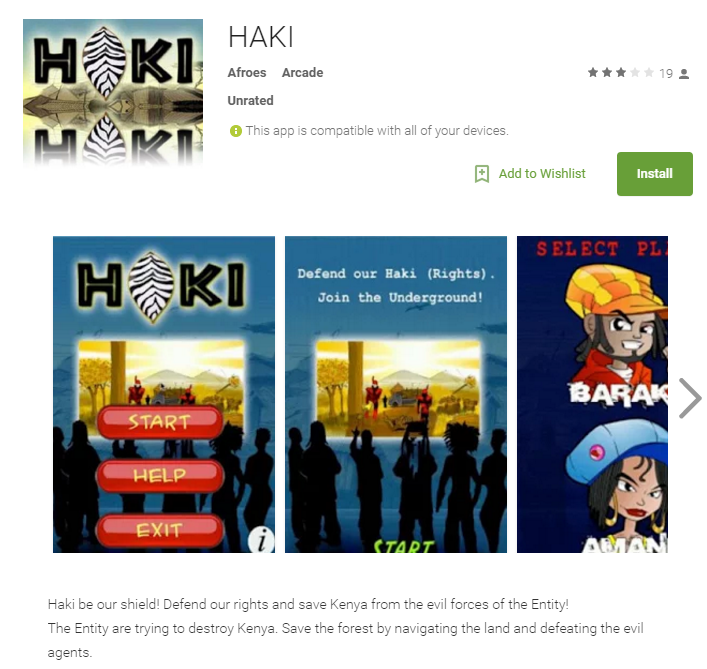 I decided to do a random Poll of 10 people around my office. Only four had Kenyan-developed apps i.e. OLX (not really Kenyan), M-Ledger, Haki, and Hellofood. No one app was in use by more than one person. I went ahead and asked why they didn't have Kenyan apps and the result was as follows:
3 – I've never heard of any.
5 – I've downloaded a couple, but they are so boring.
2 – The international apps I have cover all my needs.
Are the numbers lying?
Research Firm, Informa UK claims that there are more than 4 million smartphones in Kenya. A number buoyed by the proliferation of affordable smartphones like Nokia's Asha series and Huawei's Ideos phones. Thus ideally, any new app is looking at a potential market of 4 Million users locally.
We have not tapped into even a tenth of this.
Of the 2 Million or so Facebook users in Kenya, over 80% of them access Facebook on their phones. The same applies to most Google searches in the country coming from mobile devices, not to mention the phenomenal existence of instant messaging services such as WhatsApp which are eating into the SMS Market.
So, Kenyans are consuming smartphone apps, just not Kenyan Apps.
Where are we going wrong?
Other Afrikan markets such as Nigeria and South Africa have done well in the smartphone apps arena, getting millions of people to download apps such as MXit and Guinness VIP. Not sure how true this is but one blog claims the Nigerian smartphone market is worth $1 Billion.
Kenya is always placed up there with these two countries when it comes to internet statistics so the comparison is fair.
The top internet activities in Kenya include
Social Media,
E-mail,
News,
Gaming,
Instant Messaging and
Search.
Shouldn't Kenyan App developers be playing in this space to leverage existing user behavior?
The growth of platforms like Instagram and Snapchat goes to show that there is always a new way to approach a popular activity and gain a following in the process. Activities such as e-commerce and e-banking come at the extreme bottom of what Kenyans do online, yet most Kenyan apps seem to be playing in this space.
When Steve Jobs, thought to be the father of apps (with over 60 Billion app downloads from Apple's store) when he brought the App Store concept to the world, he envisioned an extension of his philosophy that great technology should help people bring out the best in themselves. From health guides to music downloads to radio streaming to recipe books, the Most Popular Apps in the world present an extension to the Value of Life of their users.
Maybe it's time to go back to basics.
Why would I need to download a Real Estate or Car Directory App yet I only move house or buy a new car once every few years?
Why not a Mobile Car Clinic that I can refer to whenever my car acts up?
Build It, And They Will Come
Henry Ford famously said,
"If you had asked people what they wanted, they would have said faster Horses"
I feel that most app developers in Kenya build the apps they think people want. Worse still is the app developers who build apps that are an exact replica of an app that has hit the American or European market hoping it hits here.
We, as Kenyan software developers, then despair when nobody downloads our apps and proclaim in frustration that Kenyans are not ready for apps.
Ten years ago, we all wished we could find a better, more affordable, more convenient way to transfer money. Today, no one can understand how we ever existed without mobile money.
So, henceforth, I have decided to take more risks, experiment more and keep pivoting until that Eureka moment.
— By Alex Muriu