Afrika's ability to connect its inhabitants continues to be hampered by the global shortage of semiconductors. The International Data Corporation (IDC) reported a drop in smartphone shipments to Afrika for the third quarter in a row in its most recent report.

In the first quarter of 2022, smartphone suppliers shipped a total of 19.7 million handsets across Africa. For the first quarter of 2022, this equates to a 15.7 percent decrease year over year (YoY) (Q1 2022). The feature phone category had a 26.6 percent fall in shipments, resulting in a loss of 21.9 million units.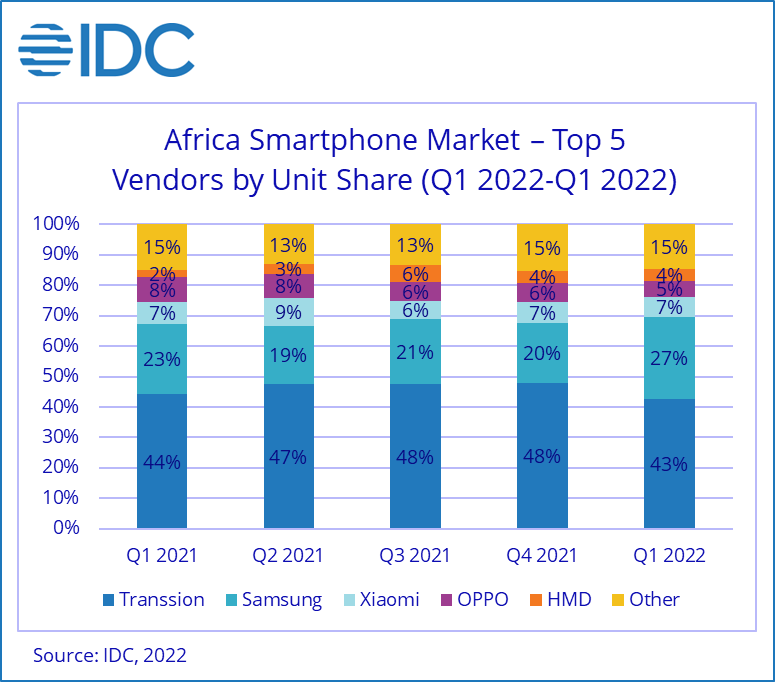 Egypt
Egypt, which accounts for approximately 10.5 percent of the African smartphone market, had the worst reductions, with smartphone shipments falling 43.2 percent YoY in Q1 2022 as the government proceeded to implement new import controls for all commodities and a new 10% customs on mobile phones.

Rest of Africa
Nigeria's smartphone market shrank by 19.6%, despite the market recording higher demand for mobile phones. Only South Africa and Kenya had YoY increase in Q1 2022, with shipments increasing by 3.7 percent and 4.5 percent, respectively. However, this was compared to a low point in Q1 2021, when stock shortages substantially impacted these markets.