Telkom Kenya, through its CEO, Mugo Kibati, has accused Safaricom Limited of blocking a planned merger of Telkom Kenya and Airtel Kenya. The planned merger would bring together Kenya's second and third largest mobile telephone operators to form one company that would effectively compete with Safaricom.
In a move that would sound anti-competitive, Safaricom has complained to the Communications Authority of Kenya (CA) that the planned merger would lead to losses to the CA in terms of license fees, and thus not a good move. However, Telkom argues that it's none of Safaricom's business whether CA losses money or not, and the only thing Safaricom is interested in is killing off any perceived competition.
This seemingly petty war reflects some of the underlying fight for market dominance that mobile telephone operators have waged for the last 19 years.
How the war started
When the revolution of mobile telephones arrived in Kenya in 2000, it was one company called Kencell that took the market by storm. Six months later, a new company that was backed by the country's national landline telephone operator came into play under the brand name Safaricom.
Kencell ruled the Kenyan market because of its superior voice quality and targeted the high-end market, while Safaricom was struggling to catch up with its poor infrastructure and low market penetration.
Today, Safaricom stands tall as a giant in Kenya and the largest company in Eastern Afrika. Listed on the Nairobi Securities Exchange (NSE), Safaricom is worth more than all the other companies that are listed on the NSE, accounting for 50,7% of the market capitalization. On the other hand, Kencell has transformed from being Kencell to Celtel, then Zain, then Airtel Kenya. Within that time, Yu Mobile entered the market and failed (it was absorbed by Airtel), while Orange came into the market and later rebranded to Telkom.  Equity Bank subsidiary also launched their mobile virtual network operator (MVNO) which operates under the brand name Equitel.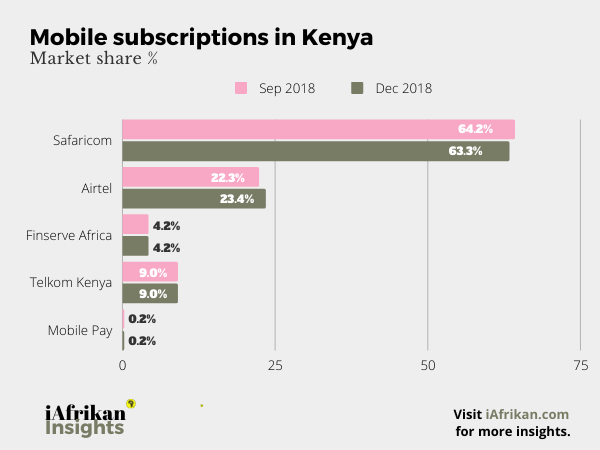 State of telecommunications competition in Kenya
Airtel Kenya and Telkom Kenya pride themselves as affordable networks with the lowest rates in Kenya, a position they use to lure in people to their network. However, their network coverage is wanting, and many people keep complaining about the quality of their services.
On the other hand, Safaricom does not blink when it comes to pricing. Their prices are high, but their network is superior in terms of quality and coverage. Their value addition through M-PESA has left their customers locked in their network, even when they would want to switch in search for cheaper calling rates. In fact, the lifeline for these other mobile operators is the widespread use and availability of dual SIM card phones which allow people to explore other networks while still retaining their Safaricom line.
On its part, Airtel changed their strategy to become the low-cost network. Their main impact has been setting the calling rates in Kenya, as Safaricom would always respond to their lower pricing by reducing their calling rates to match those of the competitors, to the advantage of Safaricom's subscribers.
However, the high rate of change of ownership has left Airtel unable to focus on the Kenyan market.
Dominant player
For its success, Safaricom PLC has been accused of using its market dominance to advance monopolistic practices. This included barring their agents from running other mobile money services and overpricing the calling rates for calls terminated outside its network. Safaricom also dragged its feet in implementing mobile money interoperability for different networks in Kenya, and to date, does not allow for one to recharge airtime for other mobile networks directly from M-Pesa.
In 2015, some people were pushing for Safaricom to be declared the dominant player, a move that would require it to split its mobile money from data and voice services, thus forming two companies. The attempt which was strongly backed by Airtel Kenya did not go through, to the relief of Safaricom.
Today, Safaricom stands tall as a giant in Kenya and the largest company in Eastern Afrika. Listed on the Nairobi Securities Exchange (NSE), Safaricom is worth more than all the other companies that are listed on the NSE.
Safaricom argued a move to split it up would simply be punishing success, while Airtel warned of risks associated with services like M-PESA going down. At the end, Safaricom argued that Airtel was feigning David vs Goliath situation while in real sense, it is part of the biggest Telco in Africa which was fighting against a local Kenyan company.
Planned merger
What would a merger of the two result to?
Possibly a stronger and better network coverage, eroding one key advantage that Safaricom has had. Throw in their lower calling rates and Safaricom has a reason to be worried, as revising its calling rates downwards will eat into its profit. The fact that many people have dual SIM phones means they can afford to have one SIM card for calling, texting and data, while retaining the Safaricom SIM for mobile money function.
This is the reason why Safaricom is not enthusiastic about the merger.
We wait to see if the merger will be successful, and if so, what it will mean for Kenya when Safaricom gets a worthy competitor. The combined Airtel-Telkom group will have 3200 Base stations against Safaricom's 5000, and will have a market share of 32,4% against Safaricom's 63,3%.
Besides Safaricom, the Ethics and Anti-Corruption Commission has also issued a stay order as they investigate some shady dealing in the substantially government owned Telkom Kenya.
Note: This article was first published in 2019 and has had some slight edits. In 2020 the proposed merger between Telkom Kenya and Airtel Kenya collapsed as Kenya's Treasury pulled the plug and did not approve the deal.
— By Jacob Mugendi