Cryptocurrency prices were down significantly starting at the beginning of May 2022. The losses have continued daily since, affecting all cryptocurrencies including Bitcoin and Ethereum, following record highs  and gains in 2021.
May 2022 will arguably go down as the month during which the crypto market accelerated its losses and started experiencing a period of high volatility and value depreciation.
As an example, the Bitcoin price is now worth almost half of what it was several months ago when it experienced its all-time high (ATH). On the other hand, a stable coin pegged to the US dollar known as Terra (UST) was depegged from the dollar and plummeted from $1 to now $0.08 at the time of publishing. Worse is that it's linked cryptocurrency, the Terra LUNA has plummeted following from $93 in April 2022 to now $0.00014 at the time of publishing. Wiping out billions of dollars in value.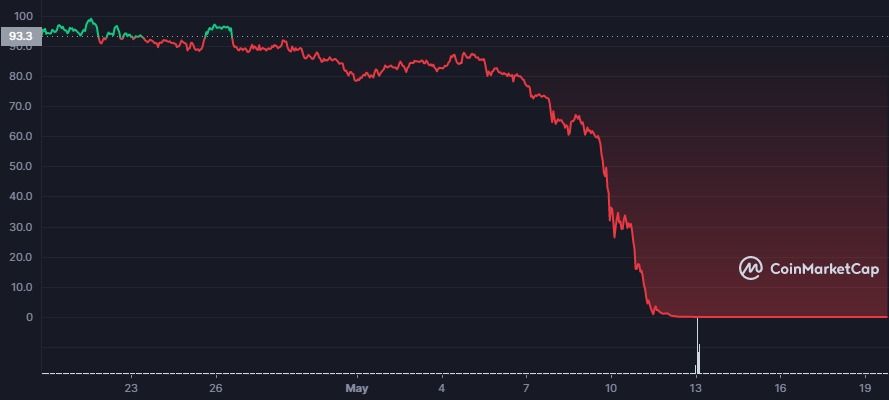 What caused the crash?
It's complicated. The simplest response to the complicated question of what caused the crypto crash of 2022 is that the crash was caused by a combination of factors. One of which can be argued to be the sudden and surprising crash of a stablecoin.
💡
A stablecoin is a cryptocurrency that is created to have a stable price and is typically pegged to a single fiat currency or commodity. The stablecoin maintains this stable price and peg through control of its supply or the use of an algorithm, or a combination of both.
The crash of both UST and LUNA highlighted several flaws with stablecoins, as it has been alleged that towards the end of April 2o22 financial services companies' Citadel and BlackRock orchestrated an attack against UST which precipitated the crash. On one hand confidence in stablecoins has dwindled as they are being questioned, while simultaneously cryptocurrencies are being questioned and many retail customers are selling as they lose confidence and governments around the world have started suggesting regulation of cryptocurrencies citing the fall of UST and LUNA as an example.
Another reason contributing to the crypto crash is the uncertain socio-economic picture for many nations across the world. This uncertainty has leaked into the unregulated cryptocurrency sector causing the market further uncertainty.
China
China banned its banks from utilizing Bitcoin as money in 2013, citing fears that its fundamentally speculative character would jeopardize the country's financial stability. By September 2021 the global superpower had tightened its grip on cryptocurrencies, proclaiming any activity using digital money to be "illegal."
Tesla
Tesla stated in February 2021 that it has purchased $1,5 billion worth of Bitcoin in a filing with the Securities and Exchange Commission (SEC). As a consequence, the electric car maker announced that Bitcoin would henceforth be accepted as a form of payment in return for Tesla automobiles.
The Bitcoin price soared on confidence that Wall Street would now follow in the footsteps of Tesla in adopting Bitcoin.
Elon Musk, the CEO of Tesla, then reversed his decision, announcing the suspension of all Bitcoin vehicle purchases. The price of Bitcoin plummeted  in the initial minutes after Musk's statement, citing concerns over "rapidly rising consumption of fossil fuels for bitcoin mining."
Global Uncertainty
The economic effects of the COVID-19 outbreak are still being felt in many nations. In the face of escalating infections and new variants, worldwide societies have found themselves in challenging situations.
As the war between Russia and Ukraine continues, increasing supply chain interruptions in the food, oil, and energy sectors have severely constrained economies. Worldwide inflation has grown, and there are global cooking oil shortages; all of this has raised the cost of living and either increased unemployment or reduced economic prospects.
As a result of limited family income, families are forced to withdraw investments or completely disregard investments in digital assets such as cryptocurrencies.
What does this mean for Afrika?
With fear of stating the obvious, Afrika and its individual states does not exist in isolation from the rest of the world. As such, the negative impact of the crypto crash does affect the continent.
Just like people around the world, many Afrikans are and were invested in cryptocurrencies and now find themselves with "investments" that have significantly depreciated. This, as one can imagine, will have a ripple effect in day to day life as disposable income is already hard to come by for many given the economic constraints brought on by the COVID-19 pandemic.
More importantly, the crypto crash will likely give Afrikan regulators more validation for their negative outlook on cryptocurrencies as many states have either banned them, introduced restrictive crypto regulations, or have been quite indifferent.
— By Bataung Qhotsokoane