The Parliament of the Central African Republic (CAR) has signed a Bill that will see the country acceptin Bitcoin as legal tender. Gourna Zacko, CAR's Minister of Digital Economy, and Calixte Nganongo, CAR's former Minister of Finance and Budget, both proposed the draft law which will also seek to establish a regulatory framework for the domestic cryptocurrency industry.
This makes CAR the first country in Afrika to accept Bitcoin, or any cryptocurrency, as a means for legal payments.
"With crypto-currency, there is no more control of the Central Bank. You have your money, you send to an investor for a business, you receive it in any currency, you can dispose with it in Dollar, Euro, CFA, or Naira," said Zacko.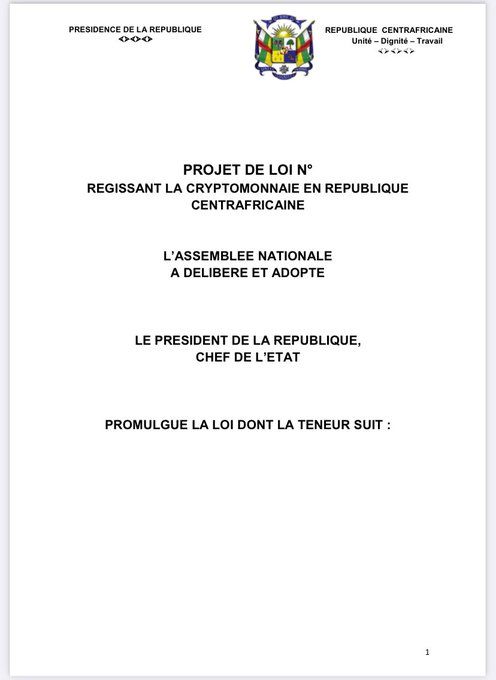 Crypto adoption in Afrika
The announcement by CAR's parliament is asurprising one that buck's the trend of Afrikan policymakers that have consistently been anti-cryptocurrency or at best indifferent. This is despite cryptocurrency adoption, and especially the adoption of Bitcoin, growing steadily across different Afrikan countries.
Recent data by iAfrikan Insights shows that Nigeria alone features in both the top 10 global lists of worldwide Bitcoin exchanges trading volumes as well as worldwide number of cryptocurrency holders by country.
This is despite the fact that the Central Bank of Nigeria (CBN) has banned cryptocurrencies and more recently fined Nigerian banks that allowed for the trading of cryptocurrencies on their customers' accounts.
The decision is rather interesting considering the socio-economic circumstances of most people in CAR but also when you consider that internet penetration in the landlocked country that has gold and diamonds is only 11%.
— By Tefo Mohapi