For several days, starting on Monday 14 January 2019, Zimbabweans have been without Internet access. This is as a result of the Southern Afrikan country's government, under rumored instructions from General Chiwenga and the leadership of President Emerson Mnangagwa, who decided to threaten and ordered all 4 of the country's telecommunications to shut off the Internet completely.
The Zimbabwean internet shutdown follows a week of protests by Zimbabweans against the recently raised fuel price and the high cost of living in the country.
"Greetings Zimbabwe, we are Anonymous. We have previously seen innocent people being killed in Zimbabwe. We have seen oppression and tyranny. We have seen people being oppressed for fighting for freedom. We cannot tolerate that. As we did with the Sudanese government, we have successfully taken down 72+ Zimbabwe government websites. This is only a start. Your banking system will also fall soon. Zimbabwe government, you have become an enemy of Anonymous! Your systems are in danger! In the face of oppression, rebellion becomes our duty. Courage to our brothers who fight for freedom in Zimbabwe and Sudan " reads a message posted by one Anonymous member on an online forum.
Hacktivism as a form of protest
Included in the message announcing #OpZimbabwe is a list of websites that have already been DSoS'd (taken offline/downed) by various Anonymous members. Among the first to be down is the Reserve Bank of Zimbabwe's website.
The list of DDoS'd websites at the time of publishing included the following government-related websites:
www.agritex.gov.zw
www.archives.gov.zw
www.auditgen.gov.zw www.auditorgeneral.gov.zw
www.dcip.gov.zw
www.dlvs.gov.zw
www.drss.gov.zw
www.energy.gov.zw
www.gisp.gov.zw
www.gov.zw
www.gta.gov.zw
www.housingministry.gov.zw www.ictministry.gov.zw
www.justice.gov.zw
www.lands.gov.zw
www.mepip.gov.zw
www.met.gov.zw
www.mhet.gov.zw
www.mhtestd.gov.zw
www.mic.gov.zw
www.miit.gov.zw
www.mines.gov.zw
www.mlass.gov.zw
www.mlgurd.gov.zw
www.mlgvturd.gov.zw
www.moa.gov.zw
www.mocpa.gov.zw
www.testdomain7.gov.zw
www.theopc.gov.zw
www.tourism.gov.zw
www.transcom.gov.zw www.vpmujuruoffice.gov.zw www.water.gov.zw
www.women.gov.zw
www.zec.gov.zw
www.zim.gov.zw
www.zimbabwe.gov.zw www.zimembassyvienna.gov.zw www.zimfa.gov.zw
www.zimgaborone.gov.zw www.zimgeneva.gov.zw www.zimimmigration.gov.zw www.zimlondon.gov.zw www.zimtreasury.gov.zw
www.zrp.gov.zw
zimtreasury.gov.zw
Although frowned upon by some members of the technology sector, hacktivism is often misunderstood. It is a form of protest, often as a last resort, to gain the attention of the international community and to shine a spotlight on a government oppressing its people.
In the case of Zimbabwe, it is a protest against the government denying citizens their human rights and freedom of speech by shutting down the Internet.
"People shouldn't be afraid of their government. Governments should be afraid of their people. ~~ We are Anonymous. We are legion. We do not forgive tyrannical governments. We will not forget your actions. You should have expected us!" says Anonymous in their statement.
Total internet shutdown in Zimbabwe
What started as a partial Internet restriction of WhatsApp and other social media services has now escalated into a full shutdown of the Internet in Zimbabwe. This finally happened on the second day of the #ShutdownZimbabwe protests against high standards of living, fuel price increases, and more on 15 January 2019.
On 15 January 2019, the first day of the protests around Zimbabwe, only a few social media sites were restricted. Even then, these could still be accessed if a user had a VPN client installed on their mobile phone or computer.
"This morning (15 January 2019) I was informed that the authorities in Zimbabwe have directed that all Internet services be shut down.  As it was a written directive issued in terms of the law, non-compliance would result in immediate imprisonment of management on the ground. Last week we were issued with a similar order in the Democratic Republic of Congo [DRC]. We complied as directed.  Whenever such directives are issued, management calls in the legal teams and reviews them in terms of the law. I'm fasting and praying for Zimbabwe, DRC, and Sudan today. We have staff in all these countries, and we love our customers. Please, please, stay safe," reads a message posted by Strive Masiyiwa, Founder of Econet, on his Facebook page.
Where do we draw the line?
Econet is not the only telecommunications company in Zimbabwe that was ordered to shut down Internet services by the government. TelOne, the second largest telco in Zimbabwe, NetOne, and ZOL also received directives from the government to shut down Internet services. However, it appears that out of the 4 companies, only Econet and TelOne (the 2 largest telecommunications service providers in Zimbabwe) had a complete Internet shutdown while NetOne and ZOL seem to have only implemented partial restrictions on social media and messaging services such as WhatsApp and Facebook.
As confirmed by Masiyiwa, Internet restrictions or shutdowns are effected on the issuing of a directive by governments to telecommunications companies. In each case, these letters will quote an Act they say is relevant in such a case, oft times relating to state security or something similar, and in each case, we have observed in Afrika, the companies comply.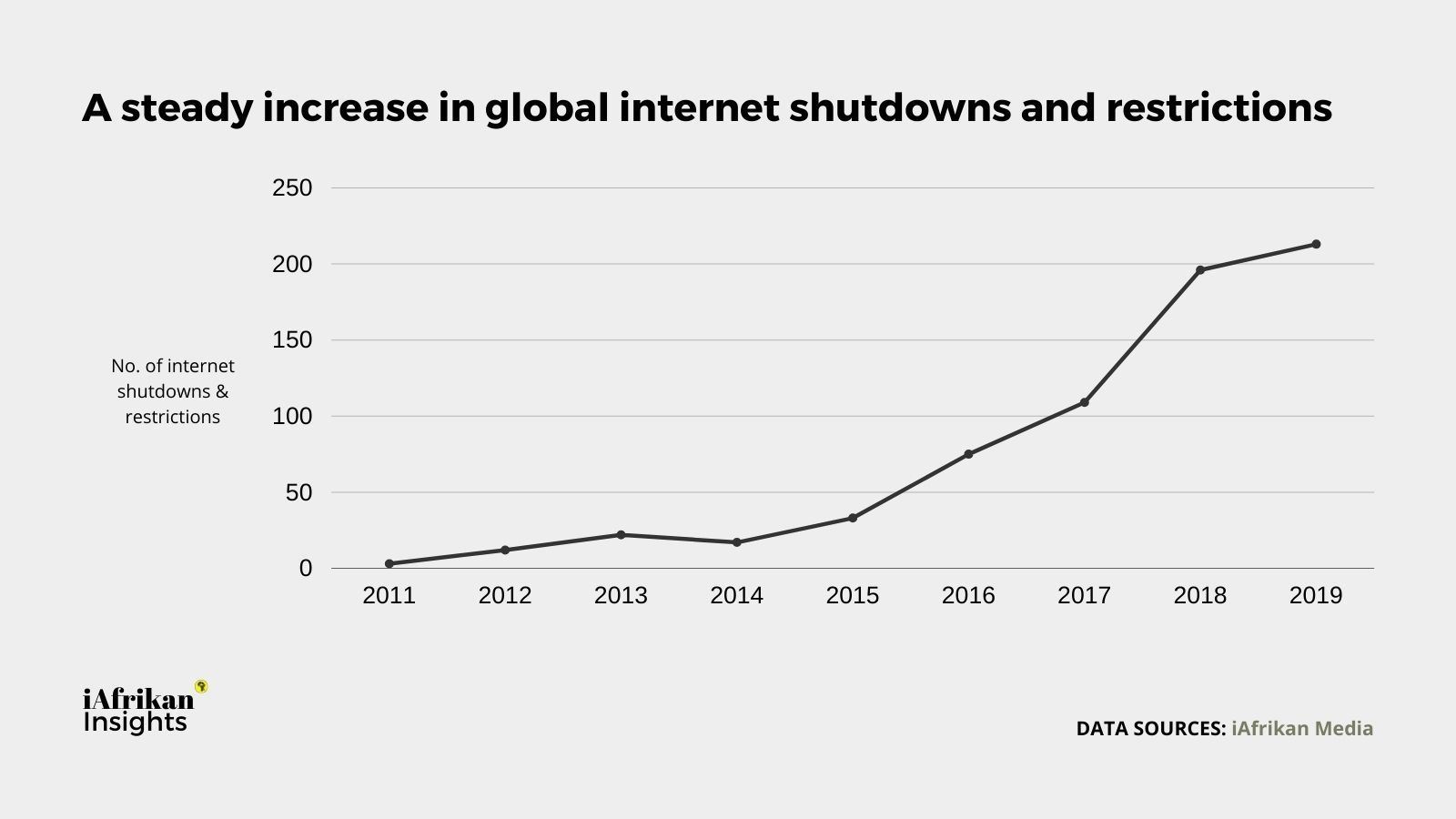 This is true in Zimbabwe's current shutdown too.
"Further to a written warrant issued by the Minister of State in the Office of the President and Cabinet, through the Director-General Of The President's Dept. responsible for National Security, acting in terms of Section 6, of the Interception of Communications Act, Internet Services and related applications such as WhatsApp, Twitter, etc., are currently suspended across all telecommunications networks, and Internet Service Providers. Failure to comply would result in 3 years imprisonment for members of local management in terms of section 6:2 (b), " reads part of the directive issues to Econet, TelOne, NetOne, and ZOL.
This then begs the question, where do we draw the line and have citizens or the companies concerned take the state to the courts to fight these Internet shutdown directives?
As we've seen repeatedly, internet shutdowns have little to do with state security but rather suppressing citizens' rights to freedom of speech as far as speaking against the current government and organizing protests against the current government.
Internet freedom
To date, there haven't been many solutions to this growing problem in Afrika which, before Zimbabwe, was also witnessed when in December 2018 authorities in the Democratic Republic of Congo (DRC) shut down the Internet just before elections took place until results were announced. However, there has been one proposal that has caught my interest.
In 2017, Andrew Alston, Group Head of IP Strategy at Liquid Telecommunications, along with two of his colleagues in the telecommunications industry, submitted a proposal to the African Network Information Centre (AfriNIC). The proposal suggests that Afrikan governments that shut down the Internet need to be punished by denying them IP addresses.
The proposal is good in that it suggests some action to be taken against the guilty governments. However, in the process of denying them IP addresses, the citizens are indirectly punished too.
Given how important the Internet has become in our lives, perhaps we need to start seriously thinking about who and how Internet services are provisioned in each country. The current power and legal dynamics between telecommunications companies and governments don't seem to be conducive to a free Internet.
Anonymous' motive behind #OpZimbabwe
Over the past week, Zimbabwe has experienced citizens protesting over raised fuel prices and high living costs, while in Sudan protests about the country's economic problems and President Omar al-Bashir's 30-year term started in December 2018. In both cases, the governments resorted to shutting down the Internet as a method to restrain citizens from speaking freely on social media and other Internet platforms.
Also, in both Sudan and Zimbabwe, the authorities have unleashed security forces on citizens resulting in deaths and severe injuries of protesting citizens.
Both protests and Internet shutdowns caught the attention of various global media organizations, and also the attention of the hacktivist movement, Anonymous.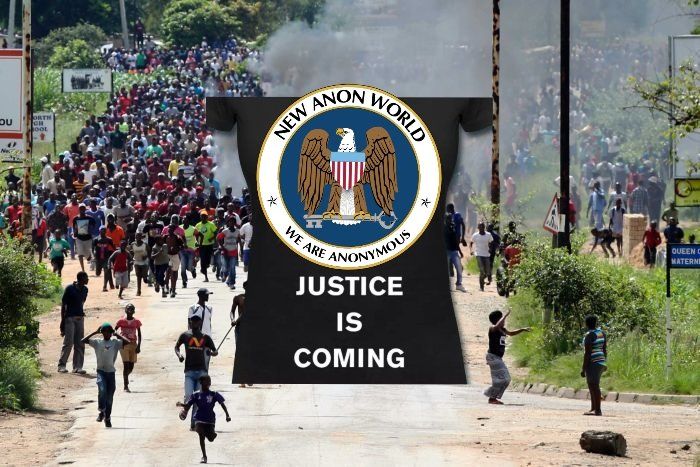 Starting on 19 January 2019, some of Zimbabwe's government-related websites (e.g. Reserve Bank of Zimbabwe) started becoming intermittently inaccessible as a result of a DDoS (Distributed Denial of Service) attack and protest by Anonymous. While those of Sudan's government continue to suffer similar consequences since early January 2019.
For those not familiar with what DDoS is, it is the flooding of a computer network/system with traffic (data) for a period of time rendering it unusable. Often used as a form of protest by hacktivists, a DDoS attack is different from the hacking or defacement of a website.
As a result of this, I decided to trace down one of the people behind both #OpSudan and #OpZimbabwe, Lorian Synaro, and have a quick chat about both operations. Lorian is no stranger to Anonymous and hacktivism, as previous participation in #OpCongo and other operations outside Afrika indicate.
iAfrikan: Are you linked to the global Anonymous movement?
Lorian Synaro, Anonymous: Yes, I am linked to the global Anonymous movement. Anonymous is not [a] group, it's an idea. So I can't really say what is my role within Anonymous. I am just doing my best to help in operations and fight injustices.
What is the aim of the DDoS (Distributed Denial of Service) attack protesSudanpSudan and OpZimbabwe and what is involved in terms of mobilizing people and resources?
The DDoS attacks aim to shut down the targeted website or server as a form of protest.
Here, we do it in government sites and banks to help Zimbabwe and Sudan people. These attacks are co[-o]rdinated and we are like 4 people taking part in it.
Do you or anyone involved in OpSudan or OpZimbabwe have any political links globally or anywhere in Afrika?
No, we don't have any political link[s] globally or in Afrika.
What was the motivation to carry out both operations, and why now?
The operations were both launched because Sudan and Zimbabwe are both in a revolution.
They need help more than ever.
Will both operations be ongoing or have they stopped?
The Ops will end when the people of Sudan and Zimbabwe will not need our help anymore.
So the ops are still ongoing now.
Would you say you are satisfied with how the Ops have played out?
I have partially achieved my goals, so there is still work to do. But it's a great start.
Are there any other planned attacks specific to African organizations or countries?
Yes, all the corrupt Afrikan countries are also our target. We don't have other planned attacks in other countries now because we are already in OpSudan in OpZimbabwe.
I wanna say that those attacks are not to harm the people. Some media and people want to show us as criminals but we are not. We are only fighting for freedom.
On the same day, iAfrikan.com spoke to Loryn Synaro some good news came through from Zimbabwe. A court had declared the internet shutdown by the government illegal.
High Court rules that internet shutdown was illegal
Zimbabwe's High Court sat to hear the case against the Internet shutdowns brought by Zimbabwean Lawyers for Human Rights and MISA Zimbabwe, an organization that promotes access and the free flow to information. The main point was on how the state used Zimbabwe's Interception of Communications Act.
Both MISA Zimbabwe and ZLHR argued that Zimbabwe's Minister of State in the President's office did not have the authority to issue any directives under the Interception of Communications Act for the shutting down of the Internet or social media, they added that such a directive can only legally be issued by the President of the country, currently, Emerson Mnangagwa. As a result of this, Justice Owen Tuga, Judge of Zimbabwe's High Court, ruled that the Internet and social media shutdowns in Zimbabwe were illegal and have now been reversed.
"The court has ruled that Minister of State does not have the authority to issue any directives. This means that the directives to shut down the Internet are now reversed! The court did not rule on the constitutionality of the Interception of Communications Act today." reads a statement by MISA Zimbabwe.
— By Tefo Mohapi