Nigeria's army has launched its "Special Anti-Kidnapping Squad" which will use drones in its surveillance efforts. What makes this launch curious is that it appears that the Nigerian army's 32 Artillery Brigade of the Owena Barracks in Akure will be using two DJI Phantom 4 drones which are no longer in production.
The DJI Phantom 4 Pro drone is not only any longer in production but it is also better suited for photography and shooting videos by civilians. Added to that, the drone has a maximum flight time of 30 minutes before requiring a battery recharge and it is not rugged nor suited for intelligence gathering.
"In recent times, the cases of kidnapping have increased in Ondo and Ekiti states and the General officer Commanding, GOC, 2 Division, General O.F Azinta has directed that we must do everything possible to bring the criminality in both states to an end. There are thick forests in these states and that is the advantage some of the criminals are using because some of the places you cannot penetrate them easily."

"So in line with the Chief of Army Staff directive to have a responsive Nigeria Army in the discharge of its constitutional role, we decided to use technology in addition to the anti-kidnapping squad. We have two of this drone, one for Ondo and the other one for Ekiti State which would easily help us to fight the issue of this kidnapping headlong. The two anti-kidnap squads will have each one mounted on a vehicle and once there is the issue of kidnapping they will immediately launch it, particularly in places that cannot be easily accessed. The device is the latest in the market, we decided to go for it with the support of my GOC. It can go on it own and it can avoid all obstacle. With its launching in this Osi community, we have been able to map out the vast forests and studied it, so our men can move in. I can tell you that bandits days are over in this state," Brigade Commander, Brigadier General Zakari Logun Abubakar is reported to have said.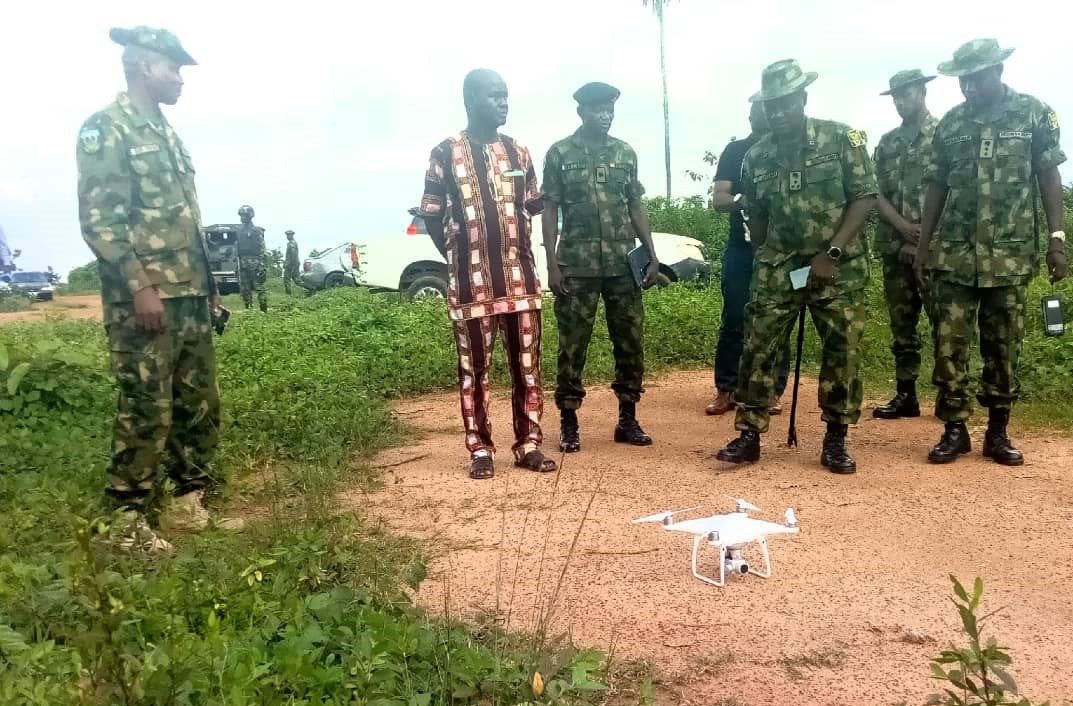 At the time of publishing, we had been waiting a couple of hours to get a response from Nigeria's Army to no avail as we wanted to verify certain details around the drones. Specifically, we wanted to confirm that, as reported by some news media in Nigeria, Brigadier Abubakar did indeed state that the drones were "Phantom 5DGI" drones:
"Abubakar explained that the drone, a Phantom 5DGI, procured by the army would assist the military formation of the anti-kidnapping Squad in identifying the movement and activities of suspected bandits, kidnappers, and other criminals. - Sahara Reporters
no such drones as Phantom 5DGI exist, in fact, the only results you will get on the first page of Google Search about "Phantom 5DGI" are all media reports in Nigeria announcing the launch by the Nigerian army. Which led us to the second point and assumption that all the media merely copied each other and ran with Phantom 5DGI when they meant Phantom 5 by DJI.
This brings us to why we mention that those are possibly the discontinued Phantom 4 Pro drones by DJI because if you visit DJI's website, the Chinese manufacturer of drones, and search for DJI 5 or Phantom 5, it shows you only listings of the old Phantom 4 and 3 range of drones.
What is worrying is that just in neighboring Niger, the USA is building the world's largest military-grade drone plant and base. This drone base in the middle of the Sahara Desert is said to cost over $100 million to construct and over $10 million per year to run. The official line from the USA's army is that the drone base in Niger is to assist with anti-terrorist surveillance and launching of drone attacks in the region.
The typical surveillance drones or military drones are equivalent in most cases to the size of a small plane and have a flight range multiple times more than the DJI drones the Nigerian army will be using. Not to mention the type of cameras they use to provide much more detail from long distances away from their areas of interest.
— By Tefo Mohapi