The 45 000 km long, 2Africa subsea fibre cable is expected to reach coastal land at Amanzimtoti near Durban on Tuesday, 7 Thursday 2023.
2Africa is a consortium cable backed by Meta (Facebook) that includes China Mobile International, MTN GlobalConnect, Orange, Center3, Telecom Egypt, Vodafone, and The West Indian Ocean Cable Company (WIOCC).
2Africa was originally scheduled to travel 37,000 kilometres with 21 landing sites in 16 African countries, as it was first planned in 2020. But the consortium stated in 2021 that the 2Africa PEARLS branch will be expanded to now encompass the Arabian Gulf, India, and Pakistan, extending the system's total length to more than 45,000km with 48 landing stations.
Alcatel Submarine Networks, the company hired to construct 2Africa, built the network using a new cabling technique known as Spatial Division Multiplexing (SDM). SDM can accommodate up to 16 fiber pairs, as opposed to the 8 fiber pairs that previous cables employed in current lines in Afrika.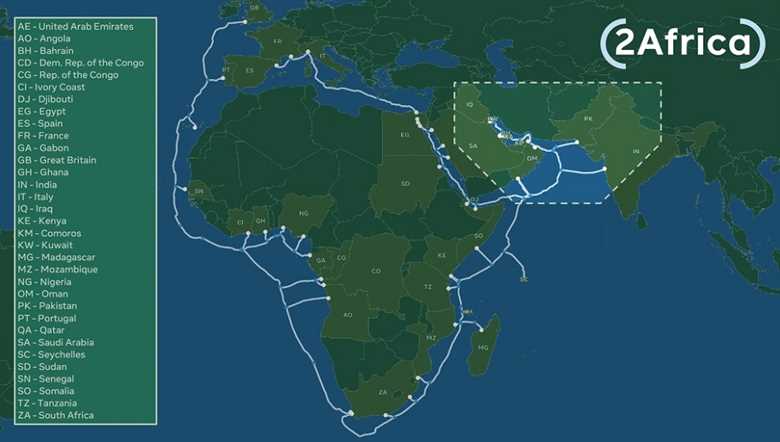 Subsea Cable Stations in South Africa
South Africa has seen a sharp increase in internet usage, recording 95 959 439 mobile subscribers, these are the highest recorded numbers since 1988
8 underwater cable stations are located on South African coasts to accommodate the growing demand for internet access. The following cable stations are located along the country's east coast thanks to investments in subsea cable infrastructure:
The remaining cable stations are located on the west coast of the country,