Judge Nixon Sifuna of the Kenyan High Court in Nairobi, has denied the Kenyan Asset Recovery Agency's (ARA) plea to dismiss its case against African fintech giant Flutterwave.
The plea rejection comes after earlier this month, Justice A. Mabeya imposed a 14-day freeze on 45 Flutterwave bank accounts at Access Bank, Equity Bank, Guaranty Trust Bank, United Bank of Africa, Ecobank, and 10 mobile money accounts at Safaricom PLC. The judgment against the company is the outcome of an application filed by Morris Ebitimi Joseph on behalf of 2,468 investors who were deceived by 86 Football Technology Ltd (86FB), a Ponzi scheme disguised as a sports betting organization. Joseph and the other investors allege that Flutterwave and 86FB conspired to defraud them of $12.04 million.
"Some accounts have been frozen, yes, but it is a matter of procedure in such civil cases. It is an unsubstantiated claim by the report because last year, during routine checks, we noted a few companies were using our platform to process payments for the company named 85FB/86Z. We proactively notified the merchants to cease processing and suspended their use of Flutterwave. We also reported the matter to the law enforcement bodies in Nigeria. We are following all due legal process in Kenya, including providing all necessary documentation as we work towards settling these matters" - Flutterwave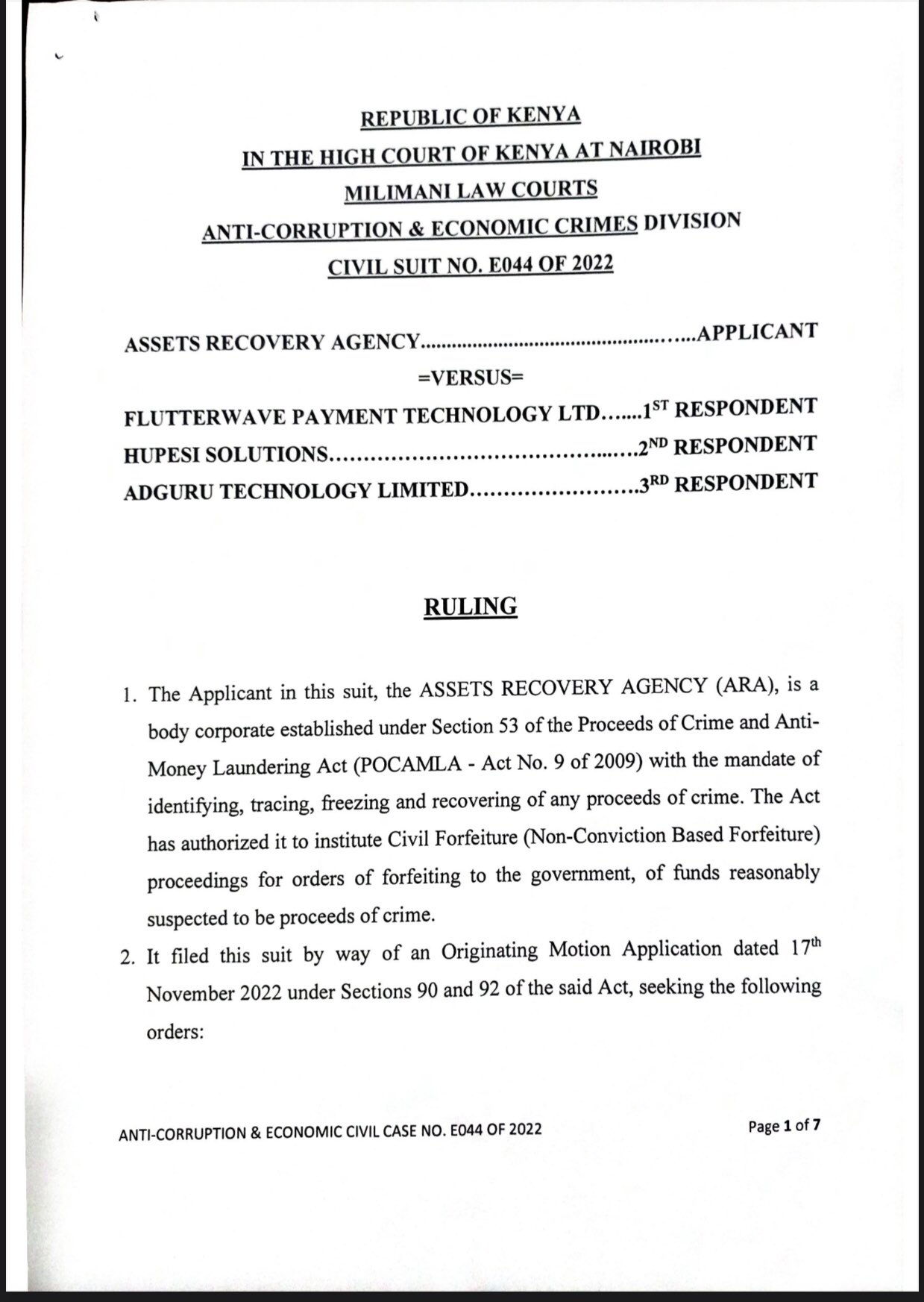 The ARA provided the court with volumes  of papers to establish that it had proof that millions of dollars in the Flutterwave accounts were obtained unlawfully, according to court filings. The judge regarded the prosecutor's abrupt shift in stance, "seeking withdrawal of the case," as suspicious behavior.
"What about the voluminous documents that accompanied the suit when it was filed?" "What about the said Corporal Nakitare, who stated on oath in his affidavit that he had collected over a period of time, and which is on the court file hitherto in five volumes," the Judge Sifuna noted
Only once the ARA's CEO or a high-ranking official signs an affidavit claiming there is no proof will the matter be dropped. Flutterwave accounts will be suspended until the sworn affidavit is certified.
Timeline of Flutterwave's troubles in Kenya
April, 2022, Flutterwave is blamed by 86FB for its inability to function properly and pay its investors. 86FB tells investors that a total of $12.04 million would be paid out as soon as Flutterwave releases all monies frozen maliciously.
May,2022, Flutterwave responds in a statement, saying that 86FB was not "registered or approved by Flutterwave". Flutterwave further discloses that it "identified direct merchants of Flutterwave who were processing transactions for 86FB without their approval or permission to do so on the Flutterwave platform" during its inquiry. This prompted Flutterwave to suspend those flagged merchants.
July, 2022,The Flutterwave is accused of fraud and money laundering by ARA. As a result, $52 million in Flutterwave-related accounts and six additional firms that received wire transactions from Flutterwave are frozen.
August, 2022, In response to accusations of card fraud and money laundering, the Kenyan High Court has placed a freeze on an additional $3.3 million owned by Flutterwave. $916,136.99 in a UBA Bank account, $556,622 and $242,405.54 in an Access Bank account, and $566,308.03, $932,870.58 and $120,784.34 in Safaricom M-Pesa paybill numbers are among the funds that have been blocked