Avengers: Infinity War has burst into cinemas, bringing together a vast array of Marvel characters. It has had a record opening weekend at the US box office, and is expected to be one of the highest grossing films of all time. Indeed fantasy and science fiction films feature prominently on the list of all-time biggest blockbusters, with the two previous Avengers' movies, and Black Panther, sitting in the top 10.
Yet, not all are happy with this trend. In January, Jodie Foster, said of superhero films such as those made by Marvel and DC:
Studios making bad content in order to appeal to the masses and shareholders is like fracking — you get the best return right now but you wreck the earth…. It's ruining the viewing habits of the American population and then ultimately the rest of the world.
I have written previously about the power of science fiction, especially Star Wars, to offer audiences a sense of transcendence and mystery, a moral compass and even hope for some kind of "salvation". Like Star Wars, superhero films such as the Avengers franchise offer an integrated mythology that engages the viewer imaginatively, cathartically and transcendentally. They even do so with humour.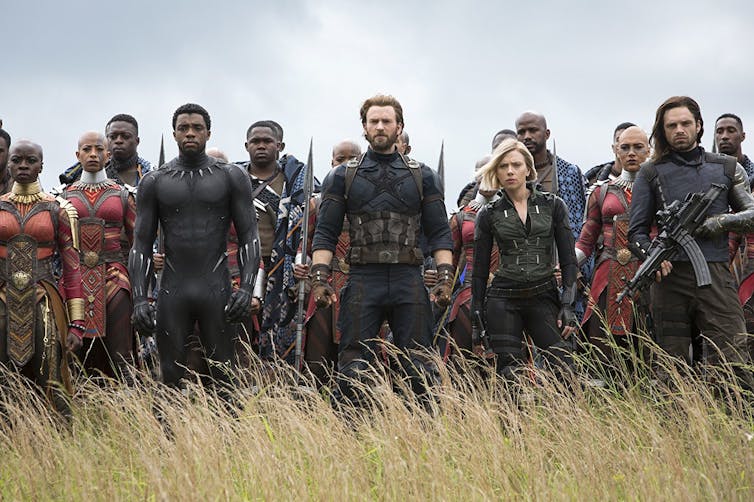 The literary-critic René Girard has argued that it is possible to read great literature, such as Shakespeare, on two levels. On one, there is action and violent spectacle. On the other, there are more complex themes, which include an implicit critique and exposure of the dynamics underlying the violent spectacle. Likewise, many of the best films appeal to multiple audiences at the same time. While I am not equating the superhero genre to Shakespeare's works, Girard's schema can be helpful to analysing these films' appeal.
Deep themes
In Infinity War, the 19th film produced by Marvel Studios, dozens of Marvel superheros are united to fight a galactic enemy, Thanos. They include Captain America, Iron Man, Spiderman, Black Panther and many others. Marvel's competitor DC has also made its own superhero films such as Batman v Superman, Wonder Woman and Justice League. The competition for superhero supremacy is intense, and involves a lot of money.
In Infinity War, Thanos wants ultimate power to restore balance to the universe. This involves killing half of the universe's living population. On the surface, the tale can be viewed as a simple one of goodies-and-baddies, complete with an inter-galactic spectacle.